Civil society calls for reforms in international development paradigm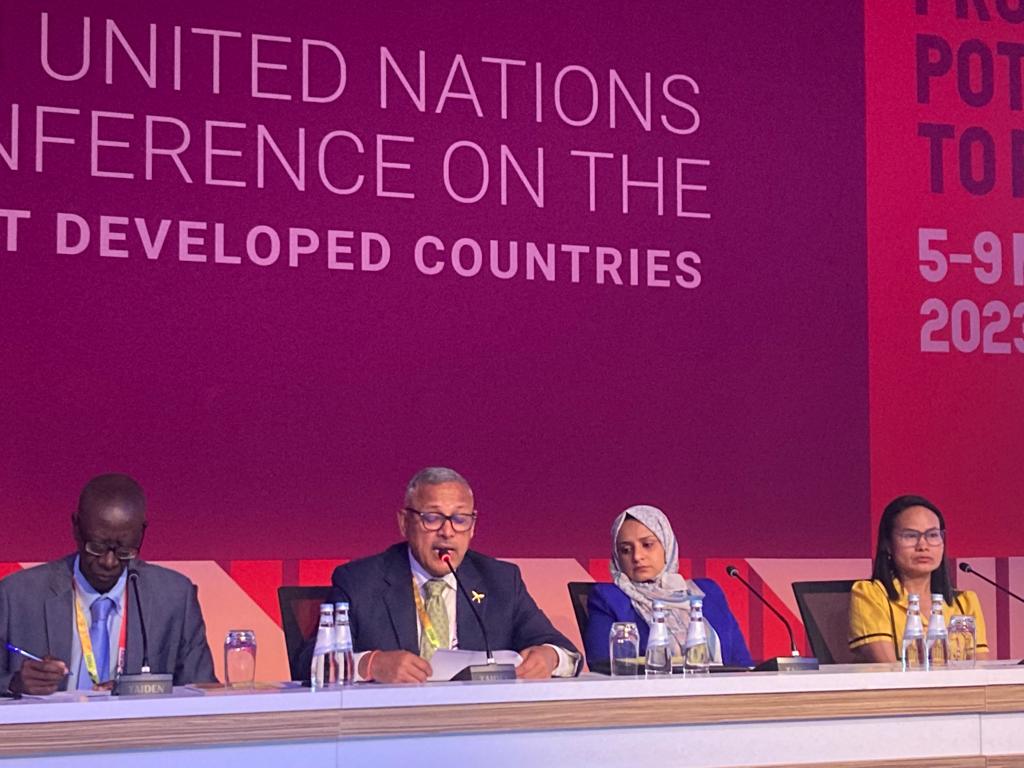 8 March 2023, Doha —  While the world's leaders have gathered in Doha for the Fifth UN Conference of the Least Developed Countries (LDC5) (5-9 March 2023) to express their political commitments and discuss the implementation and future plan of action, LDC Watch's civil society members, have come together to raise our deep concerns and to deliberate on the multiple crises faced by LDCs.
As we commemorate the International Women's Day today, we acknowledge it is the unpaid care work performed by women that subsidises the economy, yet it is they who shoulder the increased gender discrimination and inequality that appear during the times of crises, in forms of increased unpaid care work and gender-based violence.
We are horrified that despite the creation of an LDC group of countries, there has been no significant progress in the living standards of people in LDCs over the last five decades. LDCs are at a critical juncture and a "business as usual" approach, will only lead to their being further marginalised in the global economy. As we deliberated on the huge structural constraints on the development of LDCs at the Civil Society Forum during this conference, we acknowledged that the current "deeply dysfunctional and unfair global financial system" as stated by the UN Secretary-General Antonio Guterres, does not offer any solutions.
It is abundantly clear that the root cause is "an unequal power relationship between the Global North and the Global South". The failure of LDC-specific Programmes of Action (PoA), shows that unless there is a fundamental shift in power between the LDCs and the developed North, Programmes of Action, including the Doha Programme of Action (DPoA), are born to fail.
We cannot see much difference between the DPoA and the earlier Programmes of Action in terms of commitments and pledges, so don't believe LDC-specific Programmes of Action can emancipate LDCs from multiple crises it faces daily. While civil society can create pressure within the current national and international framework, the LDC-specific PoAs have paid little attention to the critical comments from civil societies from the Global South. We call for a paradigm shift towards an LDC-led international framework, with South-South cooperation as an important component. Meanwhile, we are well-aware that the challenges affecting LDCs require an international response, along with national and local actions.
As civil society representatives we call for a new framework for international cooperation for the LDCs: a new set of formal and informal institutions, rules and norms, including incentives, standards, and processes, designed to shape international economic relations in a way that leads to sustained and inclusive LDC development.
We call for a structural reform of the global economy, which directly impacts development and poverty reduction in LDCs. We also call for a new generation of special international support mechanisms for the LDCs that address their specific structural constraints and vulnerabilities. But even if a new framework for international cooperation is put in place, this can only be supplemental to LDCs' own efforts. The process musthave LDC-ownership, with self-determination of priority areas and their implementation to take forward the DPoA.
As we have travelled from 1971 to 2021, we all recognise there is now a strong Southern-based vibrant civil society that hasdecolonised, and LDC Forums are no longer North-led. We have to preserve this space amidst the increasing attempts by states to close it.
We call on the civil society to put more pressure on those who hold the power in the Global North. Civil society is one of the connecting links between people and governments and lobbiesfor the rights of LDCs within the international framework. We commend the capabilities of civil societies that from the grassroots, which take of the challenge of global engagement.
We in civil society will continue to engage with local/national governments and in the international framework to get what is rightfully ours. While we will continue to challenge the government to bring good governance and accountability, when necessary. We will work with national/local governments tomonitor and review the implementation of the Doha Programme of Action in coherence with the Sustainable Development Goals.
We will continue to advocate and lobby for key policy changes in regional and multilateral frameworks, including with the UN and development partners, to make global policies LDC-friendly, and we call on all stakeholders to work with us to support LDC's right to development.
We aim for a world free of poverty and inequality, and LDCs' sustainable and non-reversible graduation to a higher development status is a milestone we believe can be achieved, and for which we will continue to aim.