'King Charles III' hall opened in Nepal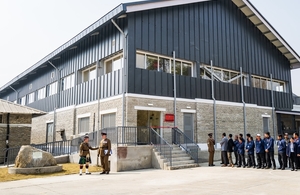 Kathmandu — The opening of a new building named after King Charles III, believed to be the first of its kind, was recently celebrated by the Minister for Defence People, Veterans and Service Families, Dr Andrew Murrison MP. The building was constructed in Nepal by a local contractor and the Defence Infrastructure Organisation (DIO) team, and replaced a previous gym facility at British Gurkhas Pokhara (BGP) Camp. The hall was named after the King with his permission, and was opened by the Minister during his visit to British Gurkhas Nepal, where he participated in the first Gurkhas Attestation parade of the King's reign.
The construction work was completed two months ahead of schedule, despite challenges posed by COVID-19, extreme weather conditions, and material supply issues resulting from Russia's invasion of Ukraine. The building was designed to meet both UK building regulations and the seismic standard needed in Nepal, and incorporated sustainable air source heat pumps to provide hot water in the ablution facilities, resulting in lower carbon footprint and energy bills. The total cost of the hall was £990,000, representing good value for money compared to a similar facility in the UK that would likely cost over £2.5m.
The King Charles III Hall is multifunctional and is used for physical training and sports, as well as English, Maths, and physical assessments for Gurkha recruits. It can also serve as emergency accommodation or storage for essential resources in the event of a natural disaster. The hall is expected to be beneficial for staff, their families, and potential Gurkha recruits.