Nepal makes it mandatory for foreign tourists to take guides during trekking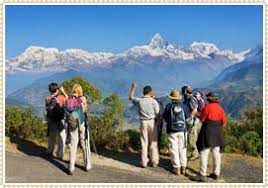 Kathmandu — Nepal has announced that from April 1, all tourists who trek in the country's Himalayan region must hire local assistance in the form of a guide or porter through a registered trekking company.
The new rule applies to established trekking routes and aims to ensure the safety of travellers while creating more job opportunities. The decision was made in consultation with the country's Trekking Agencies' Association and Joint Tourism Trade Unions Forum.
According to the statistics of NTB, 30 percent of the total tourists who come to Nepal for trekking are FITs and the total income from them was around 47 percent.
Maniraj Lamichhane, director of the Board, also said that before the COVID-19, about 46,000 tourists came to Nepal annually as 'Free Individual Trekkers (FITs). He also said that after the board stopped the TIMS card issued for FIT, now they will distribute the same type of TIMS card to all the tourists.
Previously, those going on a group tour paid Rs 1,000 per person and those going on a solo tour paid 2,000 rupees per person to get a TIMS card, however, now for all tourists, the cost of the team card will be Rs 2,000 per person. Director Lamichhane mentioned that in the case of citizens of SAARC countries, it was Rs 200, but now it will be Rs 1,000.
The move is expected to provide a significant boost to local tourism and employment opportunities for guides and porters. However, there are concerns that the new rule may discourage tourists from visiting Nepal and hit the industry gradually recovering from the COVID-19 pandemic.
Nepal is home to some of the world's most popular trekking trails, such as the Annapurna Circuit and the Everest Base Camp trek.