Nepal PM Dahal secures vote of confidence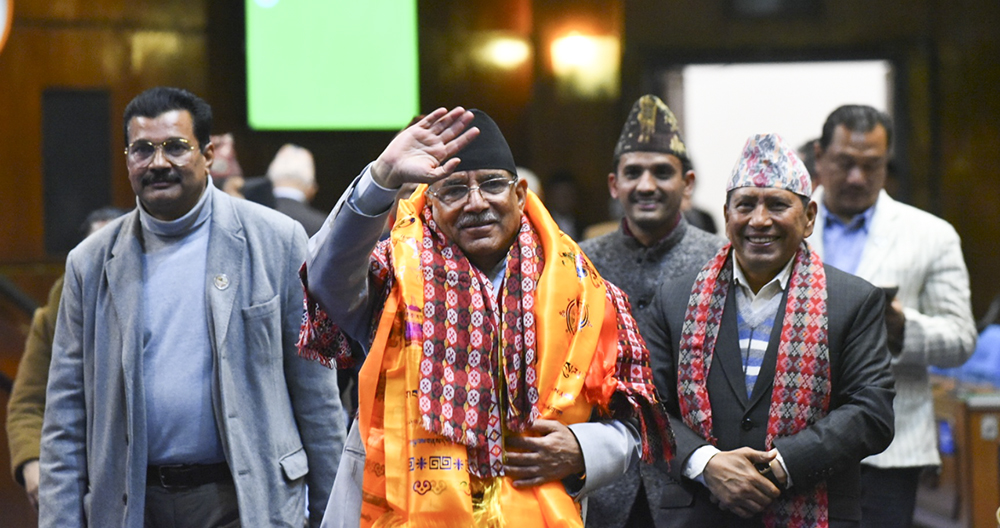 KATHMANDU – Prime Minister Pushpa Kamal Dahal has won a vote of confidence for the second time, securing his position as Nepal's prime minister. The confidence vote was held in the House of Representatives on Monday, with Dahal receiving 172 votes in favor and 89 votes against him.
Dahal was able to secure the support of eight political parties in parliament, including the largest party Nepali Congress. He received votes from his own party CPN (Maoist Center), Nepali Congress, Rastriya Swatantra Party, Janata Samajwadi Party, CPN (Unified Socialist), Janamat Party, Loktantrik Samajbadi Party, Nagarik Unmukti Party, as well as independent parliamentarians.
The prime minister needed at least 138 votes out of the 275 MPs to secure his position, as per the constitutional provision that only a person who gets 50% of the number of seats in the House of Representatives can be the prime minister.
Dahal previously won a vote of confidence on January 10, after becoming prime minister on December 25 with the support of parties including CPN-UML. During that vote, he received an overwhelming 268 votes in favor.
Following this latest victory, Dahal is expected to focus on addressing Nepal's pressing issues, including the ongoing COVID-19 pandemic, economic recovery, and constitutional reforms.
His win has been met with mixed reactions, with some hailing it as a positive step towards political stability, while others expressing concerns about the prime minister's ability to address the country's issues effectively.
Nepal has seen political turmoil in recent years, with frequent changes in government and leadership. Dahal's success in securing a second vote of confidence could signal a new era of stability and progress for the country.