Nepal-UK BCM meeting held in London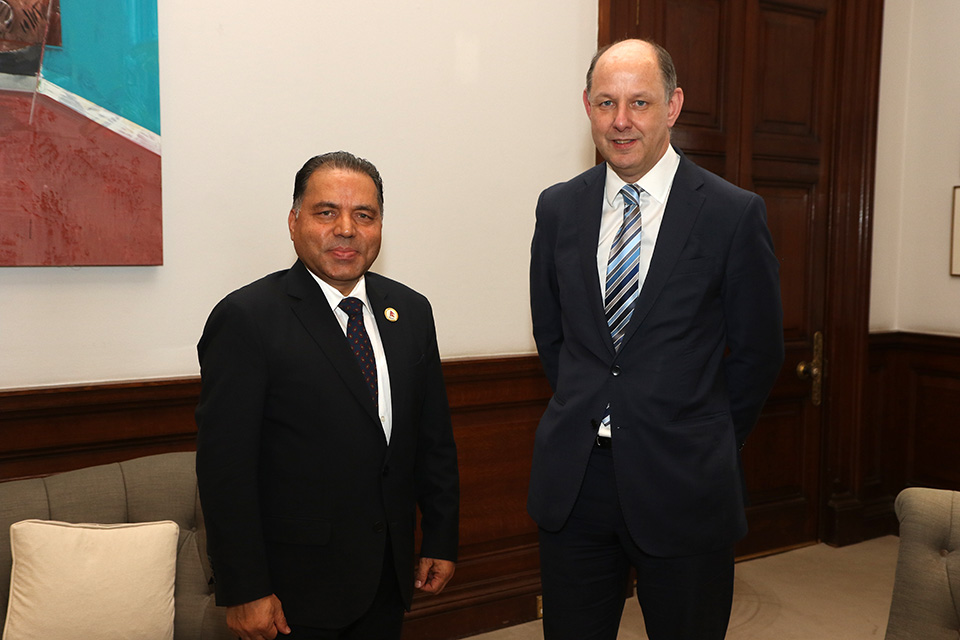 London — The 6th Nepal-United Kingdom Bilateral Consultation Mechanism (BCM) meeting was held on 26 April 2023 at the Foreign, Commonwealth and Development Office in London. During the meeting, the two sides reviewed the overall state of Nepal-UK relations and discussed ways to enhance engagements in various areas of mutual interest.
The delegations exchanged views on the longstanding friendship and cooperation between the two countries and discussed progress made in major aspects of the bilateral relations, including development cooperation, trade, investment and tourism, education and human resource development, consular matters, and people-to-people linkages. They also discussed the British Gurkha issues, climate change, and sustainable development, as well as working together on agendas of mutual interest in multilateral forums. The meeting also reviewed the ongoing talks on Ex-Gurkha issues and agreed to continue discussions towards addressing the grievances.
The UK side highlighted the changing shape of its development cooperation portfolio and shared the priority areas of future cooperation with Nepal, including support in transitioning to a middle-income country and progress towards sustainable development goals, help in mobilizing investment and climate finance, support in expanding access to education, and addressing gender inequalities. The Nepali side appreciated the valuable development cooperation provided by the United Kingdom as one of the largest development partners and emphasized the need for continuity and enhancement of such support at a critical time of graduation from the least developed country status.
The two sides agreed to work towards further consolidating and widening cooperation and engagements in productive sectors such as trade, investment, energy, and tourism. It was also agreed that scaling up investment in Nepal's clean energy would not only foster economic growth but would also help address the agenda of climate change. The two sides also discussed the utilization of investment windows such as British International Investment and the possibility of channelizing more resources from British Investments Partnership.
The two sides renewed their willingness to cooperate on various matters of common interest at multilateral forums, such as advancing the agendas of climate change, poverty alleviation, and sustainable development, among others. The United Kingdom appreciated Nepal's contribution to UN peacekeeping as the second-largest troops providing country currently.
In a separate meeting, Foreign Secretary Mr. Bharat Raj Paudyal and the Permanent Under-Secretary at FCDO Sir Philip Barton had a productive discussion on a range of topics, including marking the centenary of the Friendship Treaty, exchange of high-level visits, and bilateral cooperation. Overall, the meeting was seen as productive in terms of furthering the Nepal-UK relationship and exploring new avenues for cooperation.