Excessive Force Used Against Protesters Following Arrest of Former Pakistani Prime Minister – HRW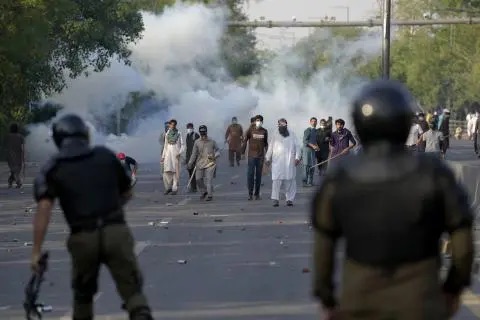 (New York) – Pakistan's police have been accused of firing on and using excessive force against protesters in the wake of the arrest of former Prime Minister Imran Khan on corruption charges, according to a press release by Human Rights Watch. The organization has also condemned the government's indiscriminate cutting of mobile internet services and restrictions on social media platforms as violations of basic rights.
The arrest of Imran Khan, a prominent political figure in Pakistan, sparked widespread protests across the country. Supporters of Khan have resorted to violence, using rocks, Molotov cocktails, and even assault rifles to attack the police. They have set fire to ambulances, police vehicles, schools, and destroyed public and private property. In response, the police have utilized tear gas, rubber bullets, and baton charges to disperse the protesters. Tragically, the clashes have resulted in the death of at least one individual in Quetta after police opened fire on the crowd.
Human Rights Watch has called on the Pakistani government to exercise restraint and uphold the right to peaceful protest, urging them to respond to violence with the minimum necessary force. The organization emphasized the importance of promptly investigating and appropriately prosecuting any criminal acts committed during the protests.
Referring to the United Nations Basic Principles on the Use of Force and Firearms by Law Enforcement Officials, Human Rights Watch emphasized that security forces should always use the minimum necessary force and resort to firearms only when less harmful means are not practicable. The use of lethal force should strictly be limited to situations where it is unavoidable to protect life.
The government has argued that the internet shutdown was necessary to maintain public safety and combat the spread of misinformation. While internet and social media platforms remain intermittently functional, this sweeping measure has led to the denial of access to crucial information for ordinary citizens, hindered healthcare services, and restricted the ability of journalists to document potential government overreach and abuse.
Human Rights Watch stressed that international human rights law prohibits broad, indiscriminate, and indefinite restrictions on fundamental freedoms, including the right to free expression and the access to provide and receive information.
Patricia Gossman, associate Asia director at Human Rights Watch, expressed concern over the charged environment in Pakistan, cautioning against the situation spiraling out of control. Gossman urged the authorities to act responsibly to prevent further cycles of violence and counterviolence.
As the situation continues to unfold, there are growing concerns regarding the preservation of civil liberties and the potential for further escalation of violence. The international community will be closely monitoring developments in Pakistan as it calls for a peaceful resolution to the current crisis.