Nepal Agriculture Cooperative Federation Receives Top Honors at FAO Awards for Sustainable Development Efforts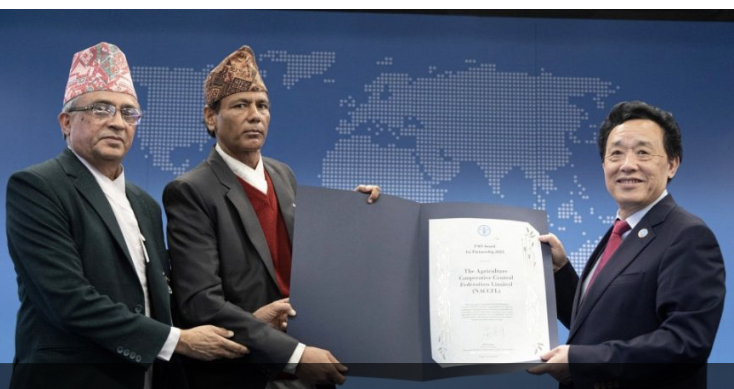 Nepal Agriculture Cooperative Central Federation (NACCFL) has been recognized for its outstanding contributions to sustainable development and agricultural practices at the inaugural Food and Agriculture Organization of the United Nations (FAO) Awards Programme. The awards ceremony took place on April 24, 2023, at FAO's headquarters in Rome, Italy.
In an effort to acknowledge progress made towards the Sustainable Development Goals (SDGs), the FAO awards highlighted NACCFL's exceptional work in enhancing the living standards of local communities, promoting sustainable agri-food systems, protecting biodiversity, and addressing the impacts of the climate crisis. These achievements have positioned NACCFL as the deserving winner of the first-place award.
FAO Director-General Qu Dongyu commended the collaborative efforts of individuals and institutions, emphasizing the importance of partnerships in achieving a sustainable, food-secure future for all. He noted that such partnerships bring together diverse capacities, foster innovation, and secure resources to uplift those who have been left behind.
NACCFL, in collaboration with FAO, has been diligently working for over a decade to strengthen agricultural systems management in Nepal. The federation comprises 1,139 agricultural co-operative members, providing them with vital access to markets, financial services, and training opportunities aimed at increasing agricultural production.
Through its policy dialogues and active participation in various forums, NACCFL effectively communicates the complex agricultural and economic challenges faced by smallholder farmers to policymakers. By promoting sustainable solutions to address hunger and malnutrition in the country, the federation has garnered recognition for its exceptional ability to bridge the gap between farmers and policymakers.
As a testament to their achievements, NACCFL was awarded €5,000 as the first-place winner. An equal amount was granted to the second-prize winner, the Al-Shouf Cedar Society (ACS) from Lebanon.
The FAO Awards Programme serves as a platform to celebrate organizations and individuals who demonstrate a strong commitment to sustainable development and the pursuit of the SDGs. Through their outstanding efforts, NACCFL and ACS have become beacons of progress, inspiring others in their respective regions and around the world.
The recognition bestowed upon NACCFL reaffirms Nepal's dedication to fostering sustainable agriculture and improving the lives of its local communities. It also highlights the importance of collaborative efforts and innovative solutions in addressing global challenges such as climate change, biodiversity loss, and food insecurity.