Nepali Sherpa Guide Scales Mount Everest for 26th Time, Sets Record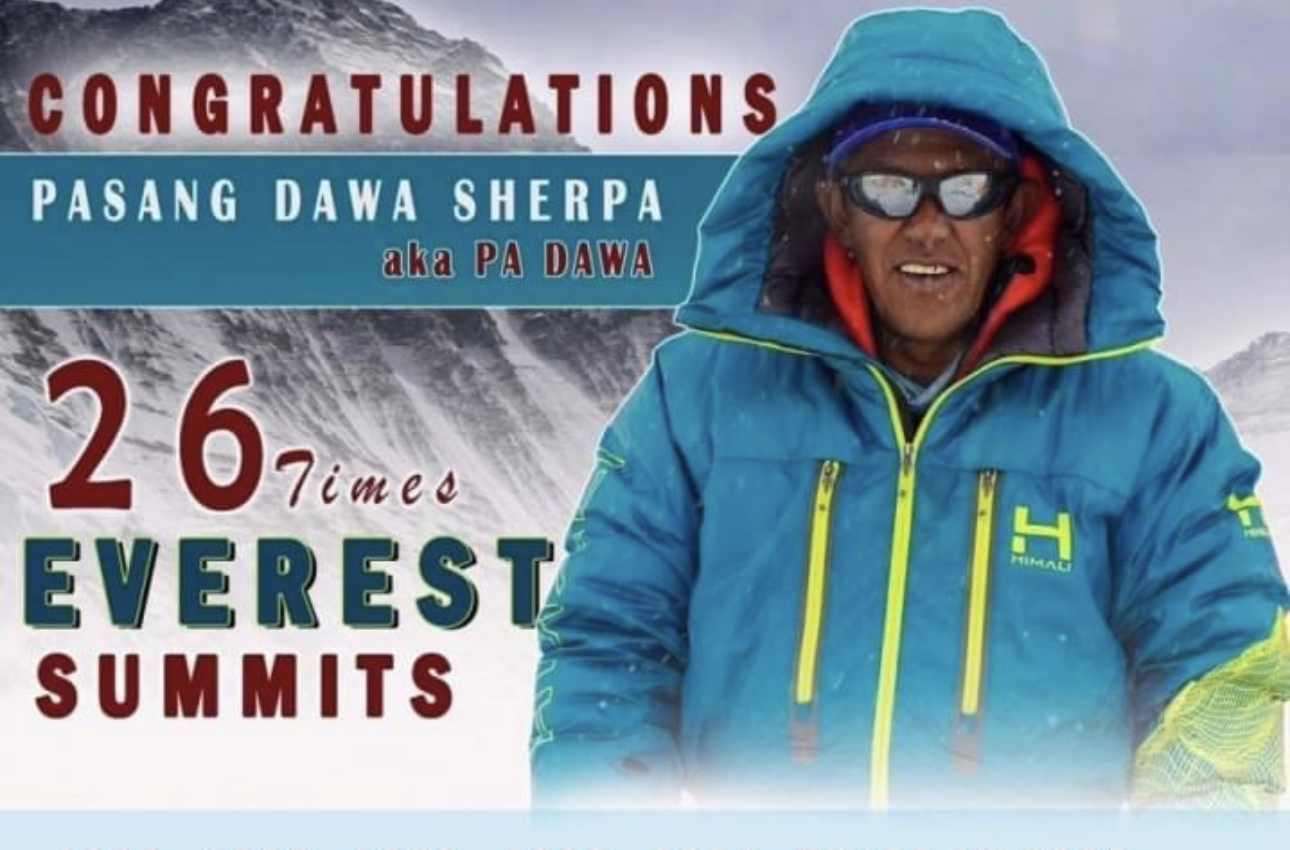 KATHMANDU – In a remarkable feat of mountaineering, Pasang Dawa Sherpa, a Nepali Sherpa guide, successfully climbed Mount Everest for the 26th time on Sunday, tying the world record for the most summits of the iconic peak. Pasang Dawa Sherpa, 46, reached the 8,849-meter (29,032-foot) summit, sharing the record with Kami Rita Sherpa, another accomplished climber.
According to Bigyan Koirala, a government tourism official, Kami Rita Sherpa is currently making his way up Everest and could set another record if he reaches the top. The achievement of these Sherpa climbers underscores their remarkable skill and resilience in the face of extreme mountain conditions.
Pasang Dawa Sherpa accomplished the historic climb alongside a Hungarian client, as confirmed by Dawa Futi Sherpa, an official from Imagine Nepal Treks, the company employing Pasang Dawa. "They are descending from the top now and are in good shape," said Dawa Futi Sherpa, indicating a successful summit and descent.
Sherpas, renowned for their climbing expertise, primarily earn their livelihood by guiding foreign climbers on Himalayan expeditions. In this climbing season, which runs from March to May, a Pakistani woman named Naila Kiani also made history by becoming the first foreign climber to reach the summit of Everest, as reported by Dawa Futi. However, due to the influx of climbers heading towards the peak after the installation of ropes to the top, this information could not be independently verified.
Naila Kiani, a 37-year-old banker based in Dubai, had previously conquered four of the world's 14 highest mountains before her successful ascent of Everest. Her remarkable achievement adds to the growing list of adventurers who have conquered the legendary peak.
This year, Nepal issued a record 467 permits to foreign climbers aiming to reach the summit of Everest. Typically, each climber is accompanied by at least one Sherpa guide, raising concerns about overcrowding in the narrow section below the summit known as the Hillary Step.
Since Sir Edmund Hillary and Sherpa Tenzing Norgay first scaled Mount Everest in 1953, the peak has been climbed over 11,000 times. However, this impressive number is accompanied by the sobering statistic that approximately 320 individuals have lost their lives in the pursuit of conquering Everest, according to the Himalayan database and Nepali officials.
As Pasang Dawa Sherpa and his Hungarian client descend from their successful climb, their remarkable achievement will be celebrated among the mountaineering community, further solidifying the Sherpas' reputation as extraordinary climbers and guides on the world's highest peak