HRW condemns Bangladesh, Myanmar on plan to repatriate Rohingya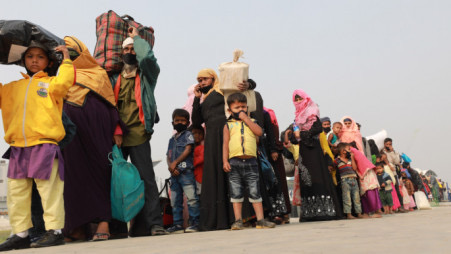 The Human Rights Watch (HRW) has criticised the plan to return Rohingya refugees from Bangladesh to Myanmar, stating it poses "grave risks" to their lives and liberty.
Currently, Bangladesh is home to about a million Rohingya, most of whom fled a 2017 military crackdown in Myanmar that is now subject to a United Nations genocide investigation, reports Al Jazeera.
According to recent reports, even though the UN has said repeatedly the conditions are not right, both countries are planning to return 1,100 people in a pilot project in the coming weeks.
"Bangladesh authorities shouldn't forget the reasons why Rohingya became refugees in the first place, and recognise that none of those factors have changed," HRW said.
"Bangladesh is frustrated with its burden as host, but sending refugees back to the control of a ruthless Myanmar junta will just be setting the stage for the next devastating exodus," the group said in a statement.
However, Bangladesh's refugee commissioner Mizanur Rahman has rejected any claims of coercing the Rohingya to return or not consulting them.
"The repatriation is voluntary," Rahman told AFP news agency. "The HRW claim is untrue."
Currently, approximately 600,000 Rohingya in Myanmar's Rakhine state are confined to squalid camps and villages that leave them vulnerable to extreme weather events such as the recent Cyclone Mocha, it added.
The cyclone has killed at least 81 people, according to statements given by local leaders and officials, as well as state media tallies.
This month, 20 Rohingya visited two resettlement camps in Rakhine where the military government plans to house them, says Al Jazeera.
"We are not ready to take a single step towards Myanmar. The arrangement they made for us isn't enough for our safety. We also have not got any justice for the persecution done to us before," said 38-year-old Hafiz Solaiman.
"We don't trust the Myanmar government 1%."
A second man, Ullah, who did not want to give his full name, said Myanmar's army had made no attempt to save his relatives from Mocha.
"What they have built for us there has now been hit by the cyclone," he added.