Indian PM Narendra Modi and Nepalese PM Pushpa Kamal Dahal 'Prachanda' Discuss Bilateral Ties, Sign Transit Agreements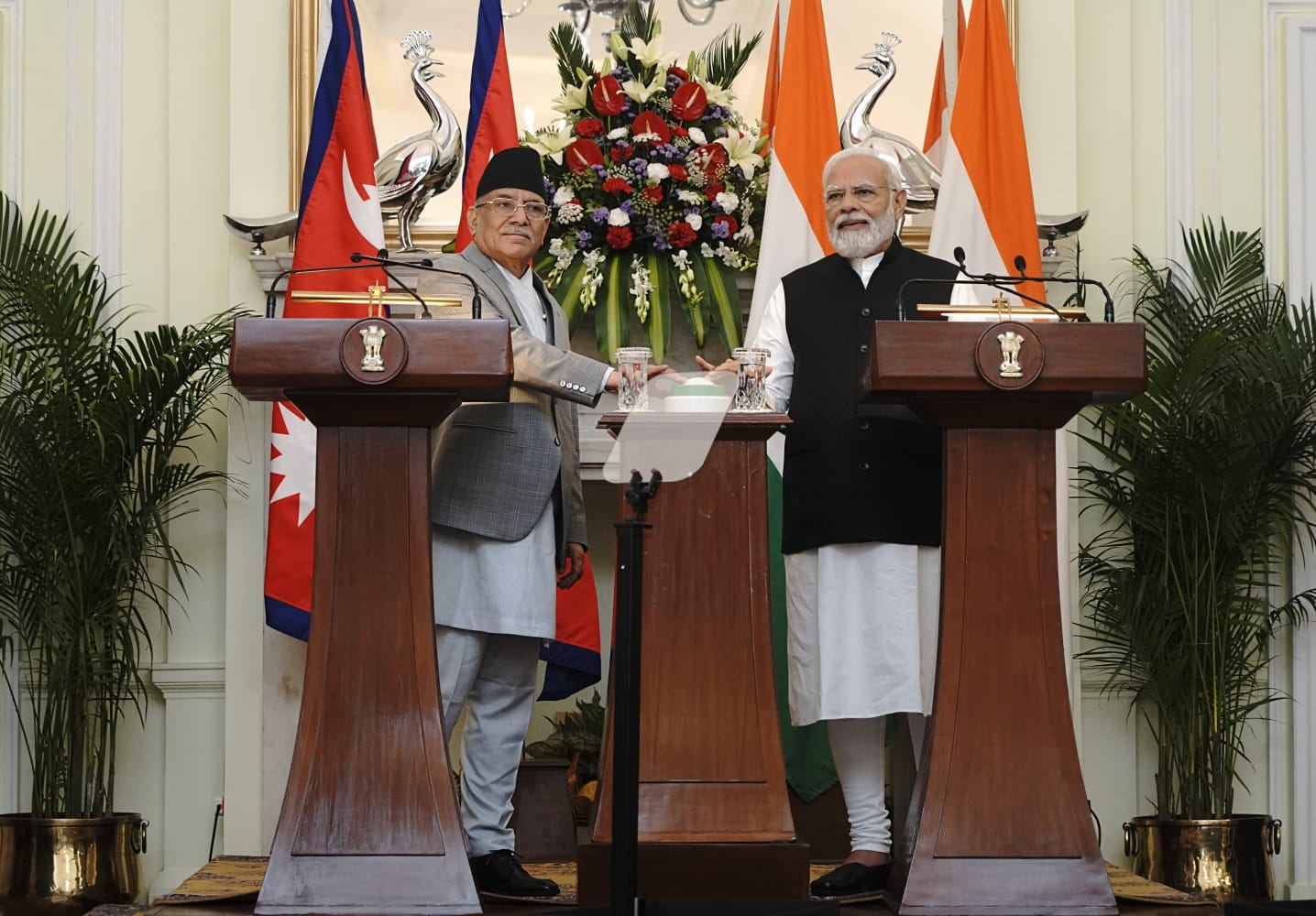 New Delhi — Indian Prime Minister Narendra Modi and his Nepali counterpart Pushpa Kamal Dahal 'Prachanda' held extensive talks on Thursday, focusing on enhancing cooperation between India and Nepal in various sectors. The discussions emphasized areas such as energy, connectivity, and trade. As a result of their meeting, both leaders signed transit agreements to further strengthen their bilateral relationship.
During the talks, Prime Minister Modi recalled his visit to Nepal in 2014, where he offered a 'hit formula' to improve relations between the two countries. He emphasized the importance of establishing highways, I-ways (information highways), and trans-ways to ensure that borders do not become barriers. Prime Minister Modi expressed his satisfaction with the progress made since then and referred to the recently signed agreements as steps towards making the partnership between India and Nepal a "super hit."
The visit of Prime Minister Dahal to India marks his first bilateral trip abroad since assuming office in December 2022 as the leader of the Communist Party of Nepal-Maoist. Welcoming Prime Minister Dahal at the Hyderabad House, Prime Minister Modi expressed his commitment to taking India-Nepal ties to new heights.
Delegation-level talks were held between the two prime ministers, covering areas such as the economy, energy, infrastructure, education, and people-to-people contacts. The leaders unveiled the e-plaque of the Kurtha-Bijalpura section of the Railway and jointly flagged off an Indian Railway cargo train from Bathnaha to the Nepal Custom yard, symbolizing increased physical connectivity.
Following the talks and unveiling of the railway section, Prime Minister Modi addressed a joint press conference, highlighting the signing of transit agreements and the establishment of new rail links to enhance connectivity. He also emphasized the significance of the long-term power trade agreement between India and Nepal, which will strengthen the power sectors of both countries. Additionally, the leaders discussed the expedited development of projects related to the Ramayana Circuit, a religious and cultural initiative aimed at further strengthening the ties between India and Nepal.
Prime Minister Dahal expressed his gratitude for the warm reception in India and acknowledged the age-old relationship between the two countries. He invited Prime Minister Modi to visit Nepal and urged him to resolve border issues through bilateral talks.
Earlier, Prime Minister Dahal paid tribute to Mahatma Gandhi at Raj Ghat, the memorial dedicated to the Indian leader. The Nepalese prime minister's visit to India, scheduled from May 31 to June 3, signifies the importance of the bilateral relationship. It also includes a visit to Indore and Ujjain, where both countries will build upon the achievements of previous high-level visits and further enhance their partnerships.
The visit of Prime Minister Dahal aims to impart renewed momentum to the close and unique India-Nepal relationship, focusing on cooperation in various fields and strengthening the cultural and historical ties between the two nations.