Supreme Court of Nepal Issues Interim Order Halting Implementation of Amended Citizenship Act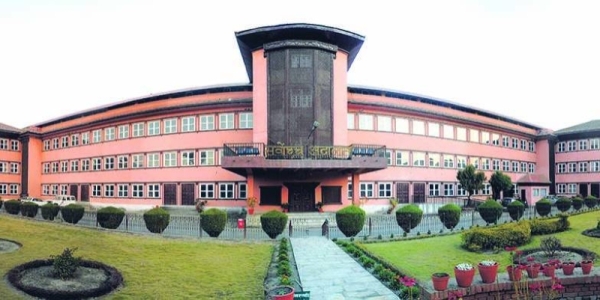 Kathmandu, Nepal – In a significant development, the Supreme Court of Nepal has issued a short-term interim order, preventing the government from implementing the recently approved amended Citizenship Act. The order, issued by a single bench comprising Judge Dr. Manoj Kumar Sharma, came in response to a writ petition filed by senior advocates Surendra Bhandari and Balkrishna Neupane.
The interim order, granted by Judge Sharma, effectively puts a temporary halt to the implementation of the amended Citizenship Act until further deliberation and examination of the constitutional issues raised in the writ petition. The adjournment of proceedings for both parties until the 26th of the Nepali month aims to allow for further discussion on whether an interim order should be issued or not.
The controversy surrounding the amended Citizenship Act began after President Ramchandra Paudel gave his approval to the bill last week. However, concerns have been raised by prominent senior advocates regarding the constitutionality of the bill's approval process.
Bhandari and Neupane filed a writ petition in the Supreme Court, arguing that President Paudel's certification of the bill goes against constitutional provisions. According to the petition, the provisions cited by the President during the bill's validation were unrelated to the purpose of the Bill Validation, thereby undermining the constitutional integrity. The petitioners contend that the bill was validated based on incorrect constitutional provisions, and as a result, the implementation of the validated bill should be delayed and not enforced immediately.
The Supreme Court's decision to issue the interim order reflects the court's willingness to address the concerns raised in the writ petition and thoroughly examine the constitutional aspects of the amended Citizenship Act. This temporary halt on its implementation will allow for a comprehensive evaluation of the bill's constitutionality and the potential impact on citizenship rights in Nepal.
As the adjourned proceedings are scheduled for later this month, legal experts anticipate that the Supreme Court will closely scrutinize the arguments presented by the petitioners and the government. The outcome of this case will not only shape the future of the amended Citizenship Act but also have significant implications for the rights and status of individuals seeking citizenship in Nepal.
For now, the implementation of the amended Citizenship Act remains on hold, pending the final decision of the Supreme Court following the forthcoming proceedings.