Fierce Cyclone Biparjoy Threatens India and Pakistan as Evacuations Increase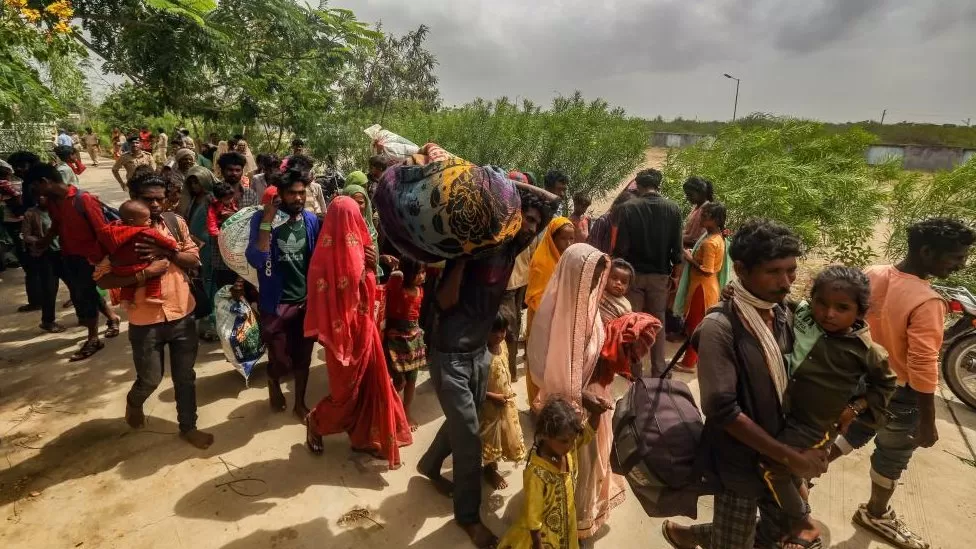 New Delhi — More than 150,000 people in India and Pakistan have been evacuated as Cyclone Biparjoy approaches the region, with authorities warning of potential destruction to homes and crops. Biparjoy, which translates to "disaster" in Bengali, has been tracking across the Arabian Sea and is expected to make landfall in India's Gujarat state on Thursday evening local time.
Tragically, at least seven people have already lost their lives in India due to heavy rains associated with the cyclone. Among the victims were two children crushed by a collapsing wall and a woman struck by a falling tree while riding a motorbike.
In Pakistan, preparations have been made for the storm's impact on the coast of Sindh province. So far, 81,000 individuals have been evacuated from the southeastern coast, and 75 relief camps have been established at schools. While Karachi, the province's largest city with a population of over 20 million, is not immediately threatened, emergency measures are being implemented.
Meteorologists have categorized Biparjoy as a "very severe cyclonic storm" with sustained winds reaching speeds of up to 135 km/h (84 mph) and gusts up to 150 km/h (93 mph). They have also issued warnings of high tides that could result in the inundation of low-lying coastal areas.
The cyclone is expected to make landfall between Mandvi in Gujarat, India, and Karachi, Pakistan, near the Jakhau port. Heavy rains and strong winds have already been reported in several coastal areas of Gujarat, and the port of Jakhau appeared deserted as the entire nearby village has been relocated.
Gujarat state officials have successfully evacuated 67,000 people from coastal regions, and train services in the area have been suspended. The ports of Kandla and Mundra, two major ports in India, have also ceased operations. Fishing activities have been halted along the Gujarat coast, and fishermen in Pakistan's coastal regions have been cautioned against venturing into the water.
To aid in relief efforts, six national disaster relief teams have been deployed in key areas of concern in Gujarat's Kutch region. Their primary focus will be on ensuring essential services remain unaffected or are swiftly restored in the aftermath of the cyclone.
The India Meteorological Department predicts that Biparjoy will weaken after crossing the coast. Cyclones are a regular occurrence in the Indian Ocean and can be devastating. Rising surface temperatures caused by climate change have increased the vulnerability of the surrounding regions to severe storms.
The evacuations carried out in preparation for Cyclone Biparjoy have evoked somber memories of a cyclone that struck the Gujarat coast 25 years ago, resulting in numerous fatalities and widespread destruction. While official figures estimated the death toll at around 4,000, local accounts suggest that the actual number may be much higher.
Abbas Yakub, a 40-year-old fisherman seeking shelter at a primary school in Mandvi, expressed concern about the approaching cyclone. Living near the coast, he and his family have already experienced the impact of rising waves, leaving them uncertain about what they will return to once the storm passes.
As the region braces for the arrival of Cyclone Biparjoy, the safety and well-being of those affected remain a top priority, with authorities working diligently to minimize the potential impact on vulnerable communities.