Nepal-UK Relations Celebrated at a Special Program in London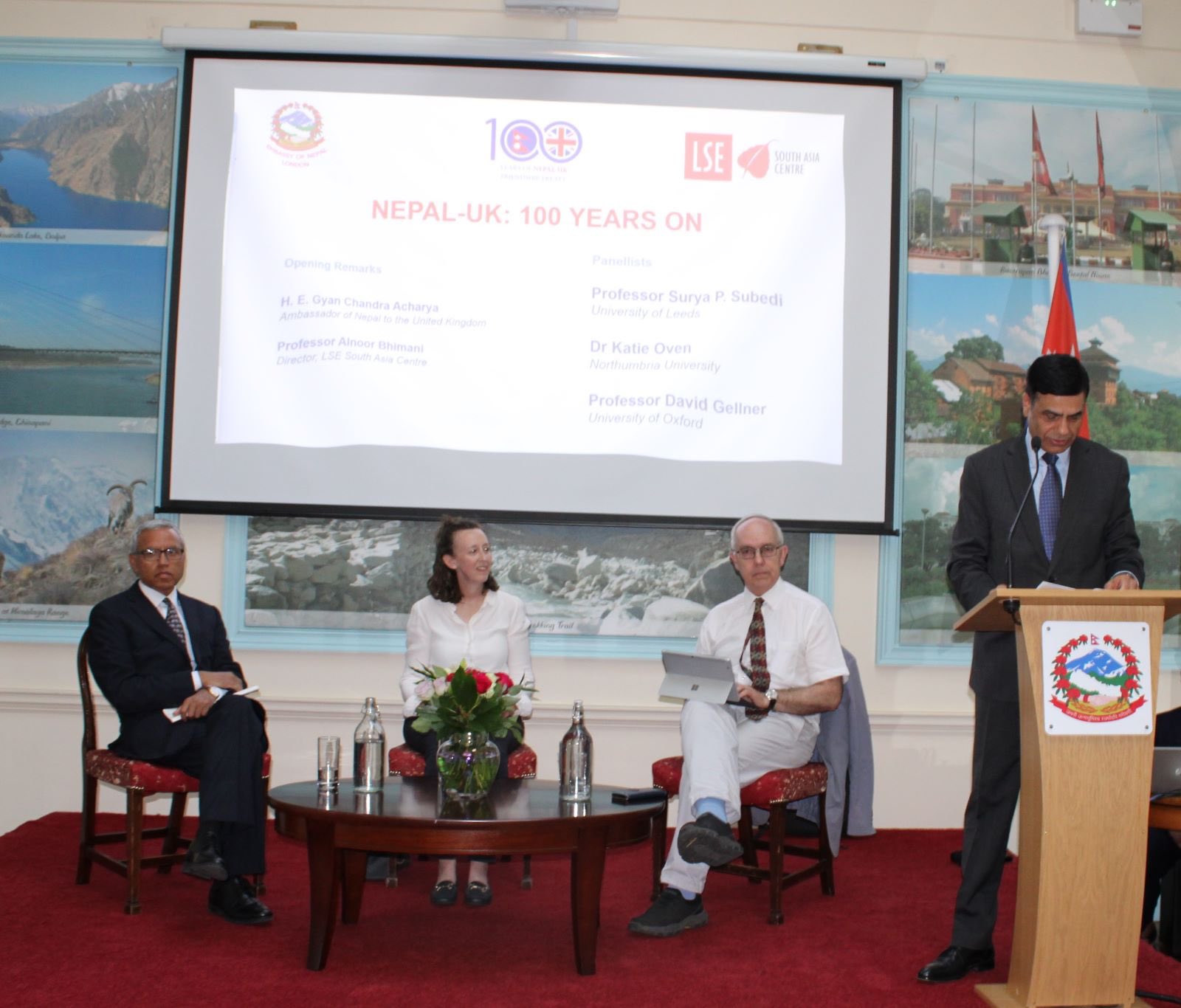 London – The Nepali Embassy in London, in collaboration with the London School of Economics and Political Science, organized a special program at Nepal Embassy premises , to celebrate the completion of one hundred years since the signing of the Nepal-United Kingdom Treaty of Friendship in 1923.
The event, held at the Nepali Embassy in London, was attended by distinguished guests and participants from various fields. Ambassador Gyan Chandra Acharya commenced the program by emphasizing the significance of the Friendship Treaty signed in 1923. He highlighted the notable progress achieved in Nepal-UK bilateral relations, including the establishment of diplomatic mission and the exchange of ambassadors between the two countries. Ambassador Acharya expressed his commitment to further strengthen the bilateral relationship in various areas during this transformative era.
Dr. Ainoor Bhimani, Director of the LSE South Asia Center at the London School of Economics, shared insights into the Center's activities and expressed the potential for collaborations with Nepal. This exchange of ideas between academic institutions from both countries holds great promise for future cooperation and knowledge sharing, he said.
Professor Surya Prasad Subedi, professor of International Law, at the University of Leeds, shed light on the enduring importance of the 1923 treaty between Nepal and the UK. He emphasized on the consistent support provided by the UK to Nepal's nation-building efforts at the national and international levels, even during various treaty negotiations over the years. The registration of the treaty with the League of Nations played a crucial role in expanding Nepal's relations with other countries, he said.
Dr. Katy Owen from the University of Northumbria focused on disaster management and preparedness initiatives between Nepal and the UK. She highlighted the support and research conducted by the UK during times of natural disasters underscoring the strong collaboration in this critical area.
Professor David Gallager from the University of Oxford shared his perspective on the social and political transformations that Nepal has undergone, spanning from the past to the present. He commended the progress achieved and the resilience of the Nepali people in navigating through various challenges.
The program witnessed active participation and fruitful interactions among eminent personalities from academic fields, representatives of various Nepali community organisations, and Nepali students studying in various universities across the UK. The gathering provided a platform for fostering stronger bonds and exploring opportunities for future collaboration between Nepal and the United Kingdom.
The event served as a testament to the enduring friendship between Nepal and the United Kingdom, while also celebrating the achievements and milestones of their bilateral relationship over the past century, a statement by the embassy said.