"Study Emphasizes the Importance of Factual Reporting by Media on Conflict Issues in Nepal"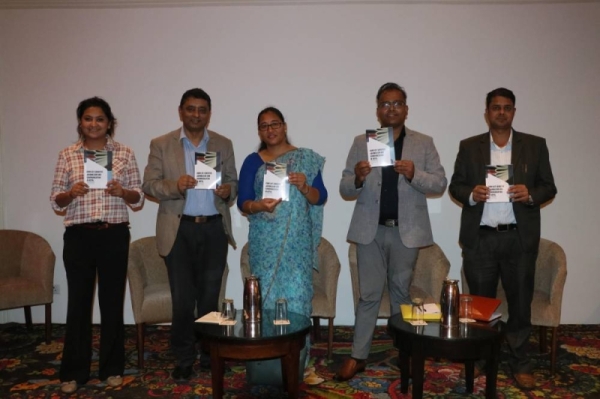 Kathmandu — A new study report released today emphasizes the crucial role of media in maintaining and promoting reconciliation and peace within society. The report, titled "Conflict-Sensitive Journalism and Communication in Nepal," highlights the importance of reporting on issues of conflict in a factual and accurate manner. It was conducted by Media Action Nepal as part of the GIZ's Civil Peace Service program and provides valuable insights into the current state of conflict-sensitive journalism in Nepal, along with recommendations to enhance conflict sensitivity in the country's media.
Out of a total of 14,422 news stories, opinion pieces, and editorials analyzed, the report found only 0.26% to be insensitive to conflict. While the mainstream media demonstrates sensitivity towards communal issues and tends to censor news stories related to conflicts between religious communities, the study reveals that online media outlets, categorized as new media, often lack sensitivity in reporting on such matters and risk exacerbating the situation.
The report highlights the changing dynamics of conflict-sensitive reporting, stating that the influence of the so-called mainstream media in shaping the narrative has significantly diminished with the rise of online news platforms. It also indicates that journalists working in online media lack a comprehensive understanding of conflict-sensitive journalism.
Despite the persistence of various conflicts at the local level, the coverage of these issues remains limited. The report suggests that journalists require better knowledge, skills, and tools to effectively report on conflicts.
Regarding media capacity-building, the study reveals a concerning gap. Journalists and editors have not received any conflict-related training since the signing of the Comprehensive Peace Agreement (CPA) between the Government of Nepal and the rebel party in 2006. Training programs aimed at covering the conflict were abundant during the war, but they significantly declined after the war ended.
During the launch of the study, Laxman Datt Pant, Chairperson of Media Action Nepal and lead researcher of the study, emphasized the need for media personnel to not only cover the consequences of conflict but also report on its root causes and potential solutions.
The event included a panel discussion featuring Taranath Dahal, CEO of Freedom Forum, senior journalist Namrata Sharma, former Commissioner of the Truth and Reconciliation Commission Manchala Jha, and Kamal Dev Bhattarai, Editor of Annapurna Express. The experts acknowledged that conflict reporting in Nepali media has predominantly been gendered and male-dominated due to a lack of inclusive leadership in newsrooms.
The study offers recommendations calling for media houses to prioritize conflict-sensitive journalism through institutional initiatives. It emphasizes the importance of collaboration between media institutions, academics, civil society organizations, and journalists in establishing an appropriate working modality to achieve this goal.