Nepali Embassy in India Directed to Investigate Mural Depicting Nepali Territory in Indian Parliament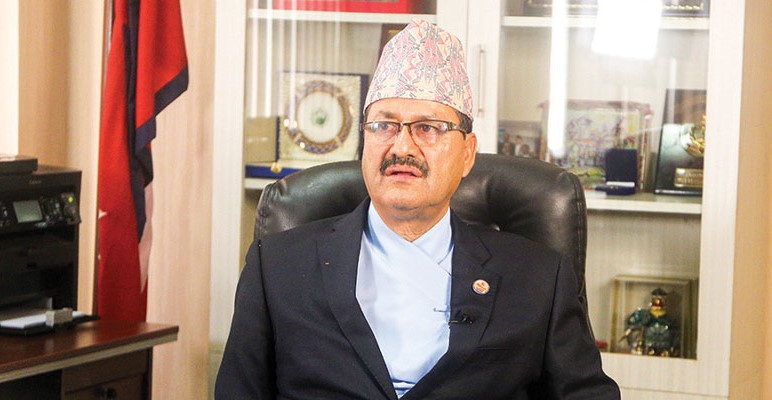 Kathmandu — The Nepali government has instructed its embassy in India to investigate and gather information regarding a mural displayed in India's newly inaugurated Parliament building. The mural in question portrays a map of 'Akhanda Bharat' (undivided India) that includes Nepali territories, such as Lumbini and Kapilvastu. Foreign Minister NP Saud disclosed this directive while responding to questions raised in the International Relations Committee of the House of Representatives.
During Prime Minister Pushpa Kamal Dahal's recent visit to India, the Nepali government became aware of the mural and subsequently sought clarification from the Indian government. According to Foreign Minister NP Saud, the Indian government conveyed its official position on the matter, asserting that the mural represents the empire of Emperor Ashoka during his reign and is not intended to be a political statement.
Minister Saud emphasized that the Nepali government firmly upholds the map of Nepal as outlined in the Constitution, following amendments made to it. He highlighted that the Indian government clarified that the mural is merely a depiction and not an actual map. Minister Saud stated, "I have spoken on the issue only after the Indian government confirmed that it was not a map and clarified its purpose."
Expressing his opinion, Minister Saud suggested that constantly disputing the matter of the map would not be appropriate. He emphasized the need for constructive engagement and dialogue between Nepal and India to address any concerns or misunderstandings.
Furthermore, Minister Saud revealed that the Nepal government is unaware of the contents of the report submitted by the Eminent Persons Group, which was established to examine and make recommendations on Nepal-India relations. He stated that the government has not officially received or studied the report.
The Nepali Embassy in India has been entrusted with the task of gathering accurate information regarding the mural and its intended purpose. Upon completion of their investigation, the embassy will report their findings back to the Nepali government.
The issue of the mural depicting Nepali territory in the Indian Parliament has sparked interest and concern among officials in Nepal. It remains to be seen how the government will handle the matter and whether it will engage in further discussions with the Indian government to address any potential sensitivities.
As the investigation continues, the focus will be on diplomatic channels to ensure that both countries maintain cordial relations and find a mutually acceptable resolution to this issue.