PM Modi Thanks President Biden for Warm Reception at White House, Engages in Fruitful Talks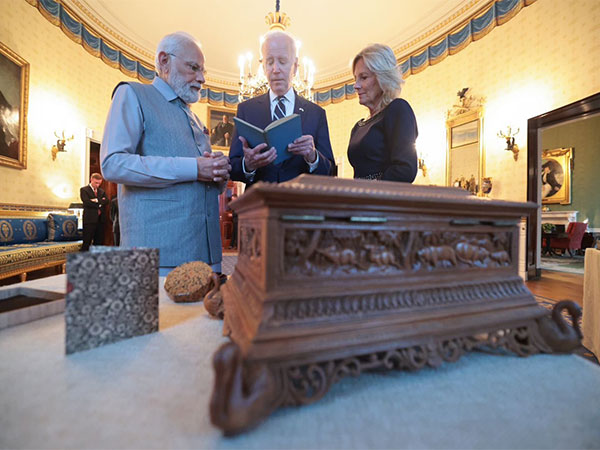 Washington DC [US] – Indian Prime Minister Narendra Modi expressed his gratitude to US President Joe Biden and First Lady Jill Biden for hosting him at the White House. The two leaders engaged in a productive conversation on various subjects, as highlighted by PM Modi on his official Twitter handle.
"I thank @POTUS @JoeBiden and @FLOTUS @DrBiden for hosting me at the White House today. We had a great conversation on several subjects," PM Modi tweeted.
President Biden welcomed PM Modi to an intimate dinner at the White House, ahead of the highly anticipated state dinner. The dinner was attended by National Security Advisor Ajit Doval, US counterpart Jake Sullivan, Foreign Secretary Vinay Kwatra, and Deputy Chief of Protocol Aseem Vohra. The menu featured President Biden's favorite foods, including pasta and ice cream.
As a special tribute to the rich culture of India, the leaders enjoyed a captivating musical performance by youth dancers from Studio Dhoom, an Indian dance studio based in the DMV area (Washington, D.C., Maryland, and Virginia), aimed at connecting the younger generation with the vibrant Indian dance traditions.
The exchange of gifts between the leaders added to the warmth of the occasion. PM Modi presented a meticulously crafted sandalwood box, made by a master craftsman from Jaipur, Rajasthan, to President Biden. Additionally, he gifted a lab-grown 7.5-carat green diamond and a 'papier mache' artwork to First Lady Jill Biden.
In return, President Biden and First Lady Jill Biden presented PM Modi with an antique American book galley from the early 20th century. The President also gifted a vintage American camera, accompanied by an archival facsimile print of George Eastman's Patent of the first Kodak camera, along with a hardcover book showcasing American wildlife photography. First Lady Jill Biden gifted a signed, first-edition copy of "Collected Poems of Robert Frost" to PM Modi.
The camaraderie between the leaders was evident when PM Modi's motorcade arrived at the South Portico of the White House at around 7:36 pm (local time). They were seen sharing laughter and engaging in conversation, reflecting the positive rapport between India and the United States.
Earlier in the day, prior to the dinner at the White House, PM Modi had fruitful meetings with Gary E Dickerson, President and CEO of Applied Materials; Sanjay Mehrotra, President and CEO of Micron Technology; and H Lawrence Culp Jr, Chairman and CEO of General Electric and CEO of General Electric Aerospace.
As part of his official state visit, PM Modi will attend the state dinner on Thursday, hosted by President Joe Biden and First Lady Jill Biden. He will also deliver a speech at a Joint Sitting of the US Congress on the same day.
Furthermore, on June 23, the Prime Minister will be jointly hosted at a luncheon by Vice President Kamala Harris and Secretary of State Antony Blinken. He is scheduled to meet with business leaders from 20 prominent American companies and address a gathering of over 1,500 diaspora and business leaders, strengthening the ties between India and the United States.