Devastating Monsoon Floods Claim Lives and Displace Thousands in South Asia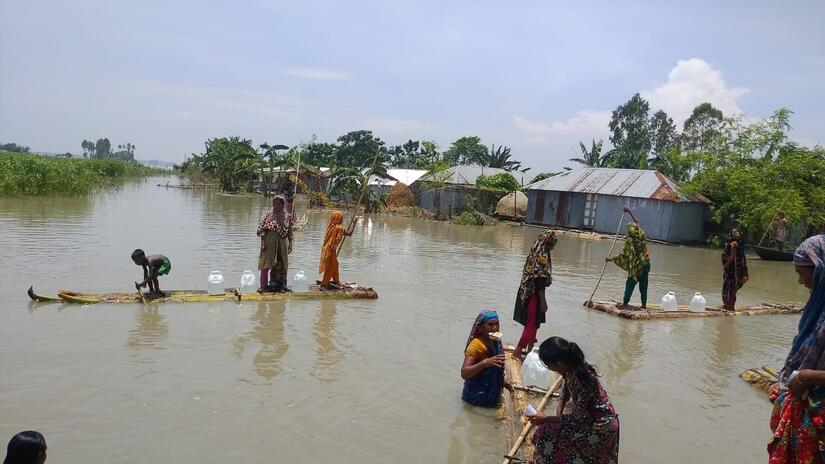 At least 19 people have tragically lost their lives as torrential rains triggered floods across South Asia during the region's annual monsoon season. The relentless downpours have forced thousands of people to seek shelter in India, where floodwaters have inundated numerous villages and disrupted normal life.
The toll from the recent flooding and landslides in Nepal has risen to 14, with over two dozen individuals still reported missing, according to officials. Search and rescue teams are working diligently to locate and assist those in need. Similarly, in India's remote Himalayan state of Arunachal Pradesh, four lives were claimed by flooding and landslides near the Chinese border, as reported by disaster management authorities.
The neighboring state of Assam in India has also been severely affected, with one person losing their life and over 1,300 villages submerged under floodwaters. More than 14,000 individuals have been compelled to evacuate their homes and seek refuge in emergency shelters, as informed by Assam's disaster agency.
Bangladesh, which shares borders with India, is currently on high alert as forecasters warn of potential floods in the northern districts. Approximately 20,000 families have already been impacted by flooding in low-lying areas around the northern district of Kurigram. Officials express concerns over swelling rivers, and the situation may worsen if water levels rise further.
The annual Asian Summer Monsoon, which brings the majority of South Asia's annual rainfall between June and September, plays a crucial role in the region's agriculture and livelihoods of millions of farmers. However, the monsoon also brings destruction through landslides and floods, which have been exacerbated by the effects of climate change.
Experts argue that climate change has increased the frequency, intensity, and unpredictability of monsoon-related disasters. A 2021 study conducted by the Potsdam Institute for Climate Impact Research (PIK) highlighted the strengthening and erratic nature of the monsoon since the mid-20th century.
South Asia has witnessed devastating consequences of monsoon floods in recent years. In 2022, Pakistan experienced catastrophic flooding, submerging a third of the country, damaging two million homes, and claiming over 1,700 lives. Bangladesh also faced record-breaking floods that year, resulting in the deaths of more than 100 people and affecting seven million individuals, with relief efforts continuing for months.
The governments of the affected countries, along with disaster management agencies, are working tirelessly to mitigate the impact of the floods and provide relief to affected communities. However, urgent action and long-term strategies to address the challenges posed by climate change and its impact on monsoons are necessary to protect vulnerable populations and ensure sustainable development in the region.