Disease-Resistant Rice Variety Saves Essential Staple for Millions in South East Asia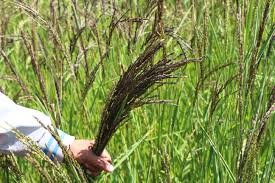 Kathmandu — Jumli Marshi rice, a crucial food source for five million families in South East Asia, has been rescued from extinction, according to the developer of disease-resistant rice varieties.
The ancient Jumli Marshi rice is a highly nutritious staple for people in Nepal, Pakistan, and India. However, this traditional variety has long been vulnerable to diseases. In a significant breakthrough, Prof John Witcombe from Bangor University, in collaboration with Nepalese rice breeder Resham Amgai, has assisted farmers in Nepal in preserving the rice variety, BBC reported.
Prof Witcombe described this achievement as the culmination of 13 years of collaborative work. He highlighted the significance of developing a disease-resistant Jumli Marshi rice, calling it a "game changer" for farmers in the challenging high-altitude rice-growing environment.
Jumli Marshi rice is cultivated at an altitude of 10,000 feet above sea level in western Nepal. It stands out due to its sweet, pinkish color and is renowned for its high fiber content, proteins, and minerals such as iron, calcium, and phosphorous. Moreover, it is considered suitable for individuals living with diabetes.
Unfortunately, the vulnerability of the ancient rice variety to the devastating blast fungus disease has forced Nepalese farmers to switch to other crops. With the assistance of indigenous farmers, Prof Witcombe, an expert in plant breeding, introduced a gene initially developed in the Philippines during the 1980s. This gene modification resulted in the creation of three disease-resistant varieties of Jumli Marshi.
The preservation of the local rice variety has been warmly received by farmers in Jumla, who have actively campaigned for its conservation. The breakthrough brings hope to millions of families who rely on Jumli Marshi rice as a vital food source.
This achievement not only safeguards a valuable crop but also highlights the significance of collaborative efforts in preserving traditional varieties and ensuring food security for communities.