Bibekshil Sajha Party of Nepal Places Glorious Cultural Map in Party Office to Counter India's Akhand Bharat Map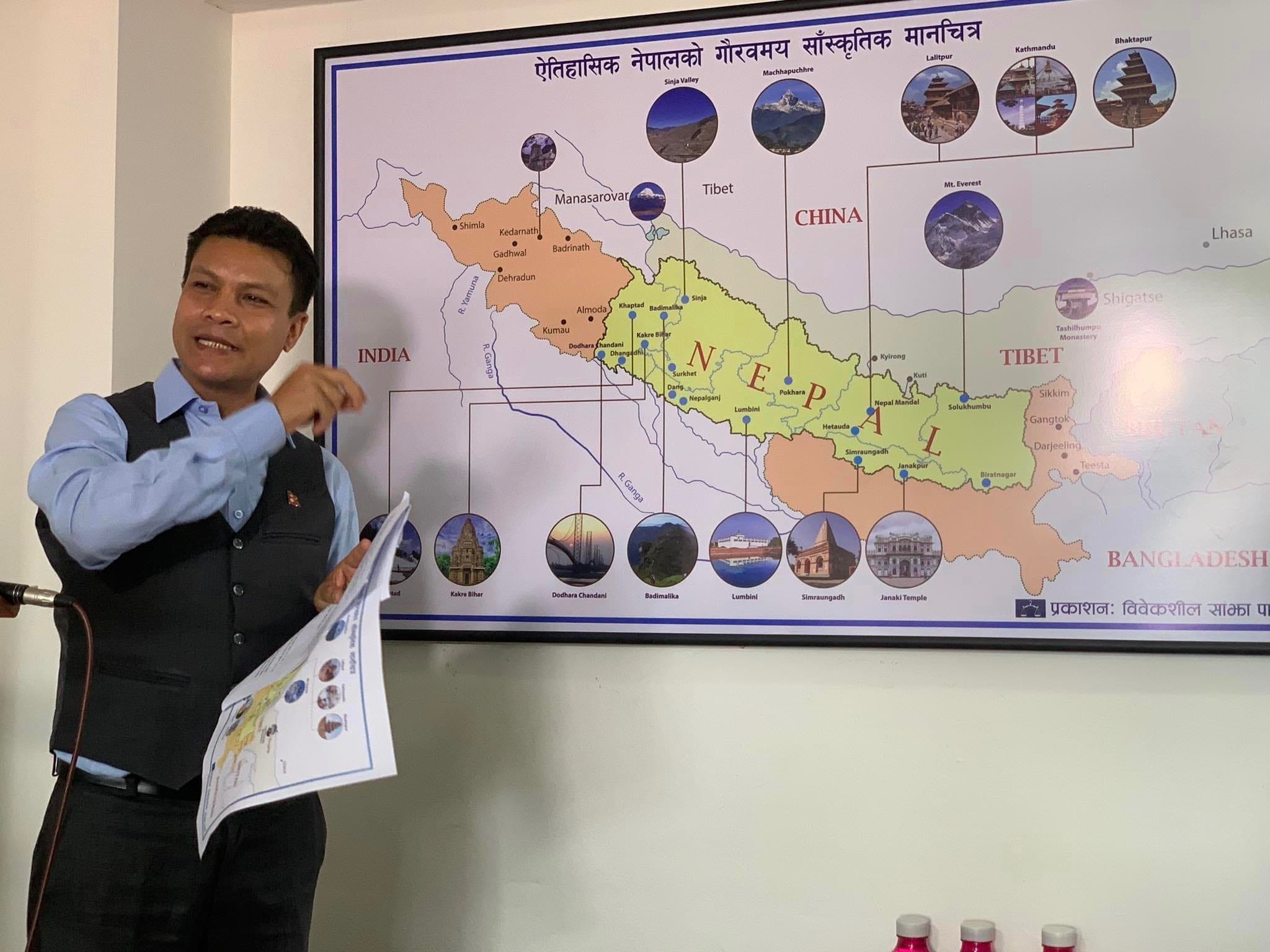 Kathmandu — Bibekshil Sajha Party of Nepal took a significant step in response to India's recent unveiling of the Akhand Bharat map by placing a map of the glorious cultural heritage of historical Nepal in its party office. The party's President, Samsika Banskota, announced this move on Friday, emphasizing the importance of preserving and promoting Nepal's rich history.
The decision comes after India's controversial act of displaying a map covering the geography of Nepal in their new parliament building, naming it Akhand Bharat. In response, Bibekshil Party aims to launch a campaign to educate the new generation about Nepal's illustrious past and raise awareness about the ground reality.
President Banskota stated that the party intends to exert pressure on various governmental bodies to display cultural maps in prominent locations such as the President's Office, Parliament Building, Singha Durbar, and Army Headquarters. The objective behind this initiative is to reinforce national identity and remind citizens of Nepal's heritage.
Vice President Prakashchandra Pariyar of Bibekshil Sajha Party expressed his demand to have cultural maps placed in all administrative bodies throughout the country. Pariyar further mentioned that they have reached out to stakeholders, urging them to demonstrate solidarity by displaying cultural maps in the parliament, administrative offices, and public institutions of Nepal.
This move by the Party signifies their determination to safeguard Nepal's cultural sovereignty and counteract India's controversial map, which has drawn criticism both domestically and internationally. The party's efforts to emphasize Nepal's glorious history and promote awareness among the new generation have garnered attention and support from various quarters.
As the debate surrounding maps and national identities continues, it remains to be seen how the government and other political parties will respond to the Party's campaign and demands for cultural maps in key governmental institutions.