Plastic Pollution Threatens Endangered Rhinos in Nepal's Chitwan National Park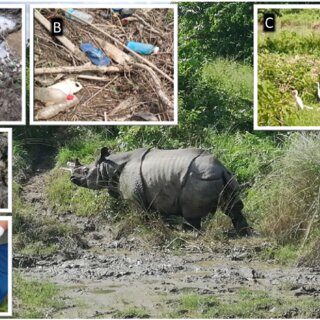 Kathmandu — Chitwan National Park in Nepal, home to the vulnerable one-horned rhinoceros, is facing a new threat during the monsoon season. The park, which becomes inaccessible and dangerous due to flooding rivers, is now also inundated with plastic waste. A recent study published in the journal Global Ecology and Conservation reveals that rhinos in the park are ingesting plastic items, posing a serious risk to their health and survival.
The study analyzed 258 dung samples from the park and found that 10.1% of them contained visible plastic. Researchers discovered plastic balls, soft drink bottle caps, chewing tobacco sachets, polythene bags, and various packaging materials in the rhino dung. Surprisingly, more plastic was found in dung samples from the core zone of the park, where human activity is restricted, compared to the fringe zone where people live and visit.
The findings suggest that the rhinos are not only consuming plastic from the river but also from other sources, including litter discarded by visitors such as masks, tobacco packaging, and bottle caps. This indicates that the rhinos are moving between zones and spreading plastic waste within the park.
Lead author of the study, Balram Awasthi, expressed his surprise at finding plastic in the rhino dung while studying the ecological services provided by these megafauna. The study did not examine the long-term effects of plastic ingestion on the rhinos, but it is believed that it could lead to issues with digestion, metabolism, and reproduction, possibly contributing to the unexplained deaths of rhinos in Chitwan.
While there is currently no evidence to suggest that rhinos have died directly from ingesting plastic, veterinarians and conservationists are concerned about the potential harm caused by the ingestion of plastic items. Plastic could block the digestive tract of the animals or release harmful chemicals into their bodies. Further research is needed to fully understand the impact of plastic pollution on the rhinos.
Chitwan National Park plays a crucial role in the conservation of the one-horned rhinoceros, with the latest census reporting 752 individuals in Nepal's wildlife sanctuaries. However, the species remains vulnerable, with fewer than 2,200 individuals remaining in India and Nepal according to the IUCN Red List of Threatened Species.
In light of these findings, the study's author, Balram Awasthi, suggests that the government and conservation partners implement cleanup programs after the monsoon to remove plastic waste from the river banks. Furthermore, towns and villages upstream should adopt sustainable waste management plans and practices to prevent plastic pollution from entering the rivers. Comprehensive efforts are needed to protect the endangered rhinos and preserve their habitat for future generations.