Dr Sanduk Ruit awarded Doctor of Science degree by Anglia Ruskin University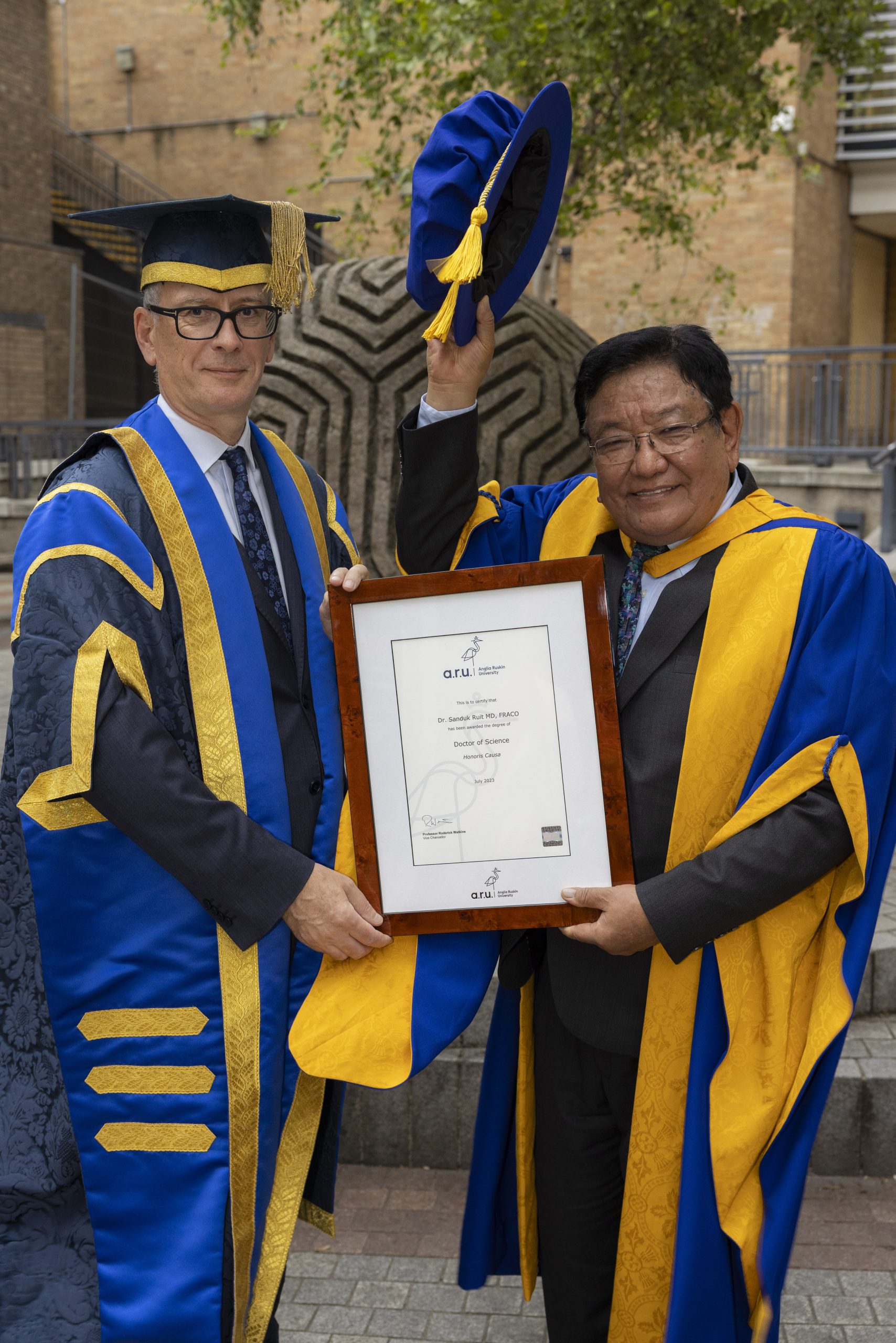 Jagan Karki, London – Eminent eye surgeon Professor Sanduk Ruit received the award of Honorary Doctor of Science from Vice Chancellor of Anglia Ruskin University (ARU), Professor Roderick Watkins, during a graduation ceremony at the Cambridge Corn Exchange on Tuesday. 
Dr Ruit is the founder of The Himalayan Cataract Project and Kathmandu-based The Tilganga Institute of Ophthalmology.
Speaking before the ceremony, which was attended by hundreds of graduating students from ARU, Dr Ruit said, "This award is important, it gives credibility not only for me but my work with the team back in the hospital. As these students graduate, round the corner, they will find challenges and opportunities. They should be able to reap the opportunities, but don't get disheartened by challenges."
Professor Watkins said, "Dr Sanduk Ruit is a pioneering ophthalmologist and surgeon, a humanitarian whose work has changed the lives of countless people in some of the world's poorest and most remote regions. He will be an inspirational role model both for researchers and students within the Vision and Research Institute (VERI) and across ARU."
Talking to Southasiatime.com, Dr Raju Sapkota, Senior Research Fellow at VERI, School of Medicine, ARU, said that the University family felt proud to honour a well-known humanitarian like Dr Ruit. "Dr Ruit's selfless service to humanity has changed lives of tens of thousands of people in Nepal and other countries. His speech before the graduating students have motived them to serve the less well-off communities during their career."
On Sunday, Nepalese Doctors Association (NDA) UK had felicitated Dr Ruit at a special function organised at the Nepali embassy in London. Addressing the function, Tej Kohli, a UK-based businessman and philanthropist, said that the Tej Kohli Foundation, in partnership with Ruit Foundation, had plans to screening around one million people curing 300,000 to 500,000 people of cataracts by 2030.
Who is Dr Ruit?
Born in the remote Nepali village of Olangchung Gola, the ophthalmologist's early childhood was spent in a community with neither electricity nor healthcare. Sanduk's family was struck by repeated tragedy, as he lost a brother and two sisters. Yet from his trauma came the resolve to become a physician, and to help people whether they could afford treatment or not.
In 1970, he won a place at King George's Medical College in the Indian city of Lucknow and he completed his postgraduate studies at the prestigious All India Institute of Medical Sciences (AIIMS) in New Delhi.
In 1985, Sanduk met Doctor Fred Hollows, an accomplished Australian eye surgeon. Sanduk went to study with Doctor Hollows at the Prince of Wales Hospital in Sydney, and it was here that he applied a surgical technique using implanted intraocular lenses, which he had finetuned in Nepal.
At that time, intraocular lenses were too expensive, and the procedure too difficult and too risky for treating patients in developing countries. Sanduk and Doctor Hollows resolved to overcome these challenges, founding the Nepal Eye Program Australia.
By developing new techniques in sutureless microsurgery, Sanduk made it possible to perform large numbers of high-quality cataract surgeries in remote locations.
In 1994, Sanduk helped establish The Tilganga Eye Centre in Kathmandu. In a typical week, the Eye Centre treats more than 7,000 patients, waiving surgery fees for those unable to pay. Because many poor people cannot travel to Kathmandu, he still leads eye camps in the more remote regions of Nepal and in many developing nations.
Remarkably, Sanduk has saved or restored the sight of over 150,000 people. He also co-founded the Himalayan Cataract Project with Professor Geoff Tabin. Two of them were instrumental in taking the Nepal system globally. In 2021, he launched the Tej Kohli & Ruit Foundation with philanthropist Mr Tej Kohli – with the mission to screen one million people and cure 300,000 of cataract blindness by 2026.
In 2006 he was awarded the Ramon Magsaysay Award for Peace and International Understanding – considered the Asian equivalent of the Nobel Prize. In 2007 he was awarded the Prince Mahidol Award in Public Health, in Thailand, and was appointed Honorary Officer of the Order of Australia, "for services to humanity".
In 2015 Sanduk was conferred with the National Order of Merit of Bhutan, and in 2016 he received an Asian Game Changer Award. In 2018, he was conferred with the Padma Shree award by the President of India, and earlier this year, Sanduk was awarded the ISA Award for Service to Humanity by the Kingdom of Bahrain.