Norwegian Woman and Sherpa Guide Set World Record by Climbing K2 and All 14 Highest Peaks in Record Time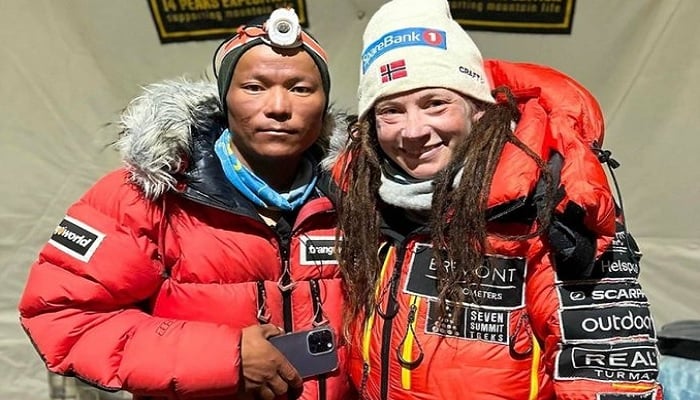 KATHMANDU – In a remarkable display of human endurance and mountaineering skill, a Norwegian woman and her Sherpa guide have achieved a historic feat by climbing K2, the world's second-highest peak, in Pakistan. Moreover, they have successfully scaled all 14 peaks above 8,000 meters (26,246 feet) in just over three months, making them the world's fastest climbers to accomplish this remarkable challenge. An official from their Nepali organizing company confirmed the achievement.
Kristin Harila, 37, and Nepal's Tenjen (Lama) Sherpa, 35, along with a team of eight other guides, achieved the extraordinary feat of conquering K2, which stands tall at 8,611 meters (28,251 feet). The Seven Summit Treks (SST) company, which provided logistical support to the climbers, celebrated their success in Kathmandu.
Tashi Lakpa Sherpa, the managing director of SST, expressed his admiration for the duo, stating, "They have become the fastest to climb all 14 peaks," as reported from the base camp. Climbing all 14 highest peaks in just a few months is a highly challenging feat that typically takes many climbers several years to achieve.
Notably, Kristin Harila and Tenjen Sherpa have outperformed Nirmal Purja from Nepal, who previously held the record for completing all 14 peaks in six months and one week in 2019. While their latest accomplishment has been verified by other climbers on the mountain, it is yet to be officially confirmed by the Guinness Book of World Records.
The awe-inspiring journey of Harila and Sherpa began with the conquest of Shishapangma in the Tibet region of China on April 26. From there, they went on to climb Everest, Kanchenjunga, Lhotse, Makalu, Cho Oyu, Dhaulagiri, Manaslu, and Annapurna in Nepal, before embarking on the challenging terrain of Pakistan. In Pakistan, they successfully summited Nanga Parbat, Gasherbrum I, Gasherbrum II, and the Broad Peak, ultimately culminating their journey by conquering K2 and achieving their goal of completing all 14 peaks in an astonishing 92 days.
Garrett Madison, the leader of a different expedition from the U.S.-based Madison Mountaineering company, who was also present on K2 during this time, praised the duo's incredible achievement. He mentioned that they took advantage of a narrow weather window to make their successful summit. Madison spoke highly of Kristin Harila's mental and physical toughness, underscoring the immense challenges and risks involved in such a feat.
Furthermore, amidst this historic accomplishment, one of the Sherpas, 17-year-old Nima Rinjin Sherpa, also secured a place in history by becoming the youngest climber to conquer K2, a testament to the indomitable spirit and determination of the mountaineers.
The global mountaineering community is now eagerly waiting for the official confirmation of this extraordinary accomplishment from the Guinness Book of World Records, recognizing the indelible mark left by Kristin Harila and Tenjen Sherpa in the annals of mountaineering history.