Pakistan's antinarcotics force seizes over 158 kg drugs, arrests 7 culprits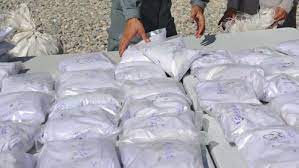 ISLAMABAD (Xinhua) — Pakistan's Anti-Narcotics Force (ANF) has seized over 158 kg drugs of different types in seven operations, said an official on Wednesday.
A spokesperson for the ANF said in a statement that the ANF conducted seven operations across the country, recovered 158 kg drugs, and arrested seven accused.
According to the official, the force detained a passenger with 98 heroin-filled capsules when he was trying to get a boarding pass for the United Arab Emirates at the Islamabad International Airport.
In another operation, an amount of 91.2 kg hashish and 28.9 kg opium was recovered from a vehicle near eastern Lahore. While conducting the operation, the ANF personnel apprehended two individuals who were present in the vehicle.
A total of 16.8 kg opium was recovered from a house in the eastern city of Multan and one accused was detained who were trying to supply the drug to clients.
The force also conducted operations in northwest Khyber district, southwest districts of Quetta and Qilla Abdullah and seized ice powder, hashish and other drugs.
Separate cases had been registered against all the accused and they had been shifted to investigation centers for further probe, added the official.