UK-based Nepali Businessman Rabindra Jung Lamichhane Honored with International Award for Philanthropy and Contribution to Social Work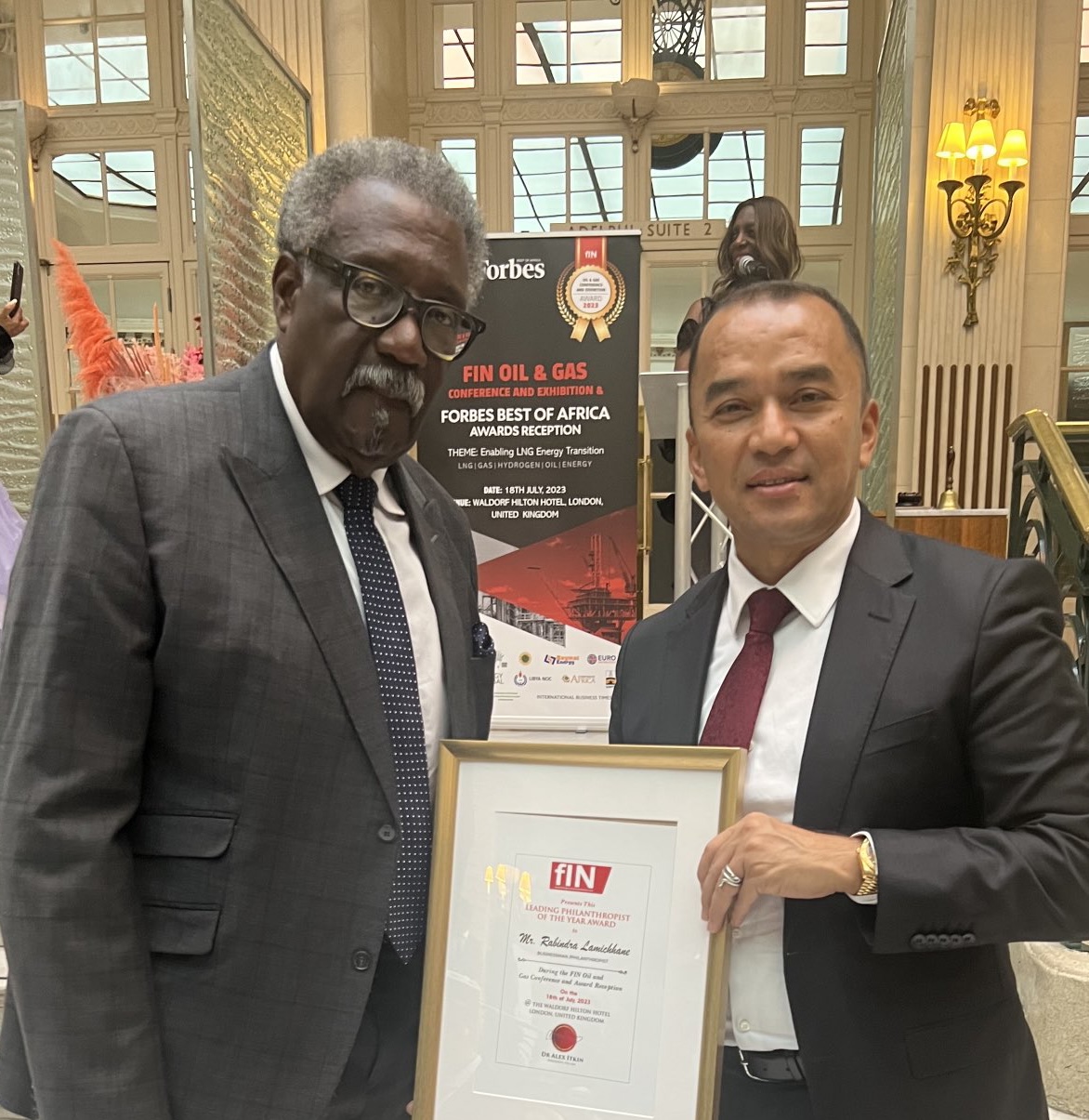 London – UK-based Nepali businessman and philanthropist, Rabindra Jung Lamichhane, has been awarded the prestigious "Fin International and Forbes Best of Africa" award in recognition of his exceptional philanthropic efforts. The award ceremony took place at the London Hilton Hotel last week, coinciding with the 25th year of the "House of Commons Memorial Book," which commemorates the legacy of South African leader Nelson Mandela.
The "Leading Philanthropist of the Year 2023" award was presented to Mr. Lamichhane on Mandela Day by Sir Clive Hubert Lloyd 'CBE AO,' the former West Indies cricket captain and a prominent figure in the sports world.
Mr. Lamichhane's recognition stems from his remarkable contributions to both the business sector and social causes. His relentless dedication to various philanthropic endeavors has significantly impacted communities in need.
The special ceremony honored a total of 40 personalities from diverse fields who have made significant contributions to society. Among the honorees were distinguished British ministers, Members of Parliament, celebrities, and Ritu Hinduja, daughter of Indian-origin British tycoon Gopi Hinduja.
An outstanding highlight of the event was when Rabindra Jung Lamichhane signed the 'House of Commons Nelson Mandela Memorial Book.' Notably, he became the first Nepali personality to sign the historic booklet, which bears the signatures of around 700 influential figures from across the globe.
The 'House of Commons Nelson Mandela Memorial Book' was established as a tribute to the iconic 20th-century leader on the initiative of British campaigner Nick Carram. Its pages carry heartfelt tribute messages from prominent personalities spanning politics, art, music, sports, and business. Among the signatories are former US President Barack Obama, former British Prime Ministers Tony Blair and David Cameron, football legend David Beckham, and former United Nations Secretary-General Kofi Annan, among others.
In response to being the first Nepali to pen a message in the booklet, Mr. Lamichhane expressed immense pride. He stated, "I am very proud to be invited to pay tribute to Mandela in a booklet signed by 700 world leaders and celebrities." The philanthropist emphasized the significance of the opportunity to honor the legacy of Nelson Mandela alongside globally renowned figures.
Founder Nic Careem issued a press statement expressing his pride in Mr. Lamichhane's inclusion in the historic booklet. He said, "I am proud that Rabindra Jung Lamichhane has become the latest signatory to the booklet dedicated to the 20th-century hero Mandela."
Lamichhane was recently awarded by the President of Nepal on the recommendation of the government of Nepal for the honour of his social and philanthropic contribution to Nepal.