Nepal Embraces Drones for Climate and Disaster Response, Paving the Way for South Asia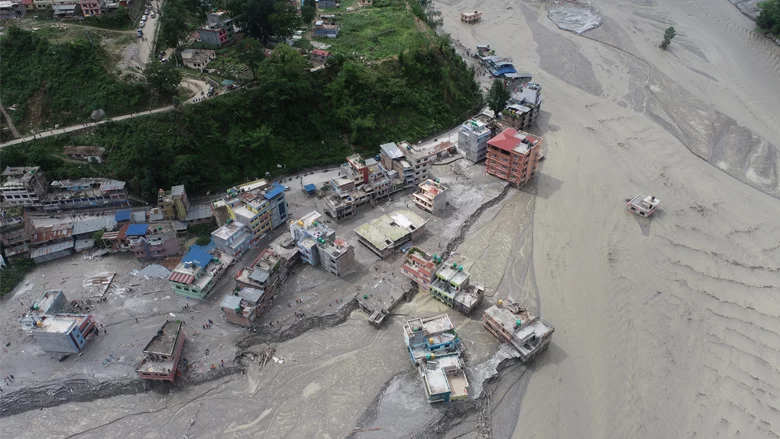 Kathmandu — In the aftermath of a devastating flood in June 2021 that wreaked havoc on parts of the Melamchi River Valley in central Nepal, authorities have turned to drone technology to respond to climate-induced disasters and assess future geohazard risks. With mountain roads blocked and helicopters unable to fly due to cloudy skies, drones have emerged as a valuable tool in providing real-time information to inform rapid response efforts.
As climate change intensifies in South Asia, the Himalayan region has been profoundly affected, with glacial melt reaching record-breaking levels. This has resulted in severe consequences for millions of people in the region, including floods and landslides. Nepal, located in the heart of the Himalayas, has become a focal point for climate change impacts, and its government is increasingly recognizing the importance of adopting disruptive technologies like drones, satellite technology, and geospatial analytics to enhance climate resilience.
Following the 2015 earthquake in Nepal, which saw the deployment of international drones for recovery efforts, the country has fostered a local drone ecosystem. Now, Nepal's pioneering use of drones in disaster response and risk assessment can serve as a model for neighboring countries grappling with the devastating impacts of climate change. The country's efforts are aimed at enhancing local capacity and creating a vibrant ecosystem of public and private stakeholders comfortable with using drones for various purposes, including creating flood and landslide risk maps and managing emergency response logistics.
In the wake of the June 2021 flood in the Melamchi River Valley, the National Disaster Risk Reduction and Management Authority (NDRRMA) of Nepal utilized drones to identify damaged houses, map inundation areas, and record topographical changes caused by the erosion and deposition of sediment. The quick and focused data collection proved invaluable in a challenging and inaccessible region, allowing for efficient resource allocation and identification of residual flood and landslide risks.
Despite the increasing use of drones in Nepal, some obstacles hinder their widespread application. Permits and logistical constraints can delay drone deployments, and strict import rules make it challenging to transfer drone technology and spare parts into the country. Additionally, the data collected from drone flights is not always available for reuse, posing challenges for further analytics and research. Nevertheless, the government of Nepal is eager to improve drone policies and regulations, eliminate barriers to entry, and ensure safe and secure drone operations.
To bolster the local drone ecosystem and build sustainable capacity for drone pilots, analysts, engineers, and entrepreneurs, the World Bank, with funding from the Korean World Bank Partnership Facility (KWPF), is engaging with the Nepalese government, private sector, academia, and local drone experts. The goal is to explore how the World Bank can support Nepal's growing drone ecosystem and build sustainable capacity for climate and disaster response, as well as other sectors, through partnerships for Green Resilient and Inclusive Development.
As Nepal moves forward with drones as a critical tool for climate and disaster risk mapping, it's evident that combining drone technology with other geospatial support systems, such as satellite imagery, is essential for comprehensive climate resilience. With advances in technology, the use of drones in climate and disaster response is expected to play a pivotal role in Nepal's journey to combat climate change and its impacts effectively.