UK-Based Nepalese Brand, Nepal Foods, Wins Prestigious Great Taste Award for Nepali Masala Chai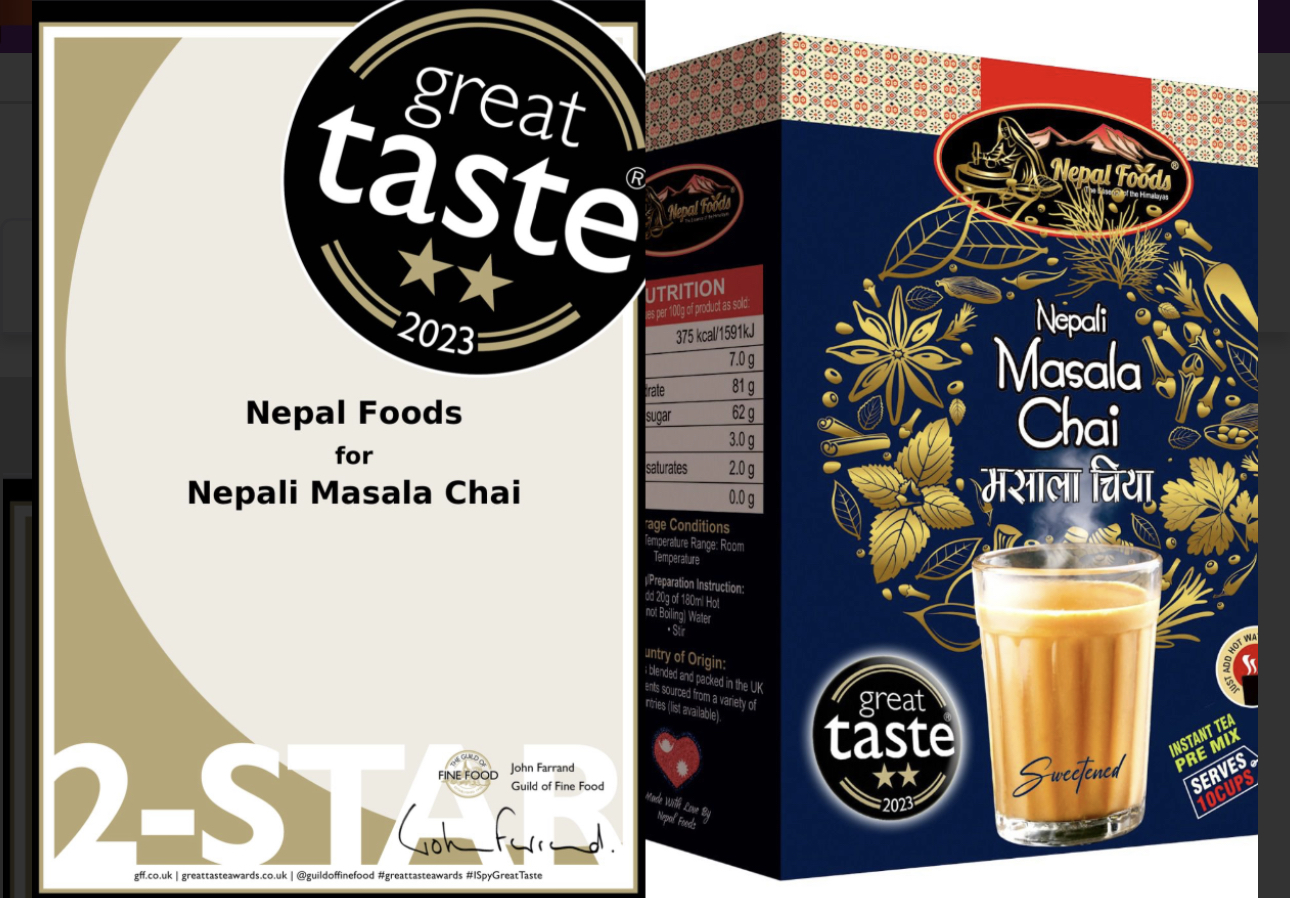 London — Nepal Foods, a UK-based Nepalese brand, has achieved global recognition by being named among the top food and drink producers this year. The company was honored with a highly prized (2-star) Great Taste award for its signature product, the Nepali Masala Chai.
Out of an impressive 14,195 products that underwent a rigorous blind judging process, Nepal Foods' Nepali Masala Chai stood out and was hailed as a "Hug in a Mug" at the esteemed Great Taste awards, the most coveted accolades in the food and drink industry. Among the participants, 4,088 products were awarded a Great Taste 1-star for delivering fantastic flavor, 1,568 received a Great Taste 2-star for being exceptionally delicious, and 248 earned a remarkable Great Taste 3-star for their extraordinary taste.
Described as "Authentic and delicate with subtlety of soft baking spices, this Chai is a true delight," Nepal Foods' Nepali Masala Chai impressed the judges with its unique blend of Nepalese spices, including cardamom, ginger, black pepper, and cinnamon, grown in the Eastern part of Nepal.
Bikash Nepal, the representative from Nepal Foods, expressed their excitement over the achievement, stating, "We are thrilled to have won a Great Taste award for our Nepali Masala Chai. We have dreamt of this moment and are so proud to be adding the prestigious black and gold Great Taste badge of honor to our Nepali Masala Chai. For us, this is the 3rd product which has won this award."
Great Taste, organised by the Guild of Fine Food, is recognized as a stamp of excellence and highly sought after by food enthusiasts and retailers alike. The judging process involves blind tasting, where all products are stripped of their packaging before being subjected to a rigorous evaluation.
This year, the judging took place over 89 days in Dorset and London, with an esteemed panel of more than 500 judges meticulously testing the products. The competition saw submissions from a remarkable 109 different countries worldwide.
The award-winning Nepali Masala Chai by Nepal Foods is now available for purchase at the retail price of £ (For 200g 10 Cups Sachet). For more information about Nepal Foods and their product range, visit their official website at www.nepalfoods.co.uk.
The complete list of this year's winners and their availability for purchase can be found at www.greattasteawards.co.uk. Many of the award-winning products are available for purchase in delis, farm shops, and independent retailers across the UK, offering food lovers the chance to savor these exceptional flavors.