Norwegian Climber Kristin Harila Retires after Setting New Record for Fastest Ascent of World's 14 Highest Peaks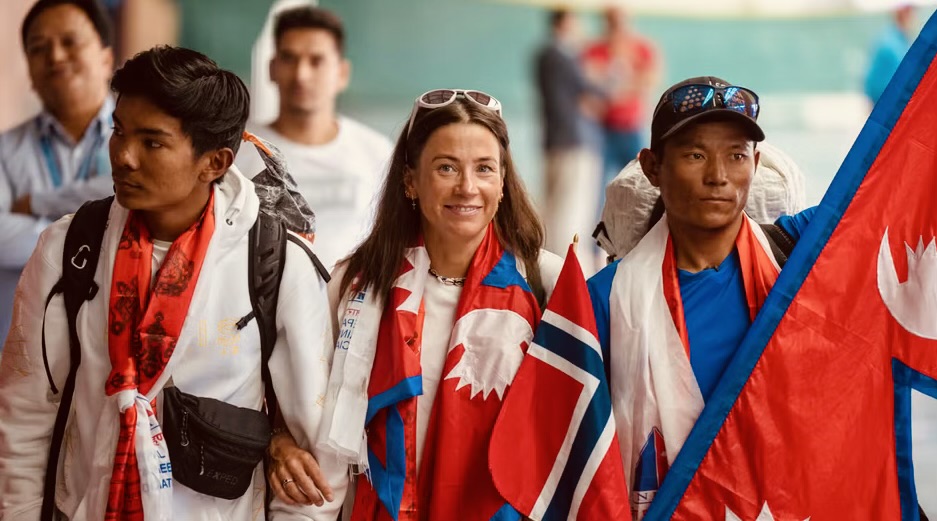 Kathmandu, Nepal – Kristin Harila, a Norwegian climber, received a hero's welcome at the Kathmandu airport upon her return to Nepal after becoming the fastest climber to scale all 14 of the world's highest mountains. Alongside her Sherpa guide Tenjin, she completed the challenging climb of Mount K2 in Pakistan, concluding the feat in an astonishing 92 days, surpassing the previous record of 189 days.
Hundreds of mountaineers, government officials, and well-wishers gathered at the airport to welcome Harila and Tenjin back, expressing their joy with cheers and flower garlands.
Upon her return, Harila announced her decision to retire from climbing high peaks. "I don't think I will try any eight-thousand meters for a while. I have done 28 eight-thousand meters in total, so I think I have done my part," she said.
The 37-year-old climber began her record-setting mission in April, conquering Mount Shishapangma in China and other peaks in Nepal, including Mount Everest, before concluding in Pakistan with the challenging ascent of K2, the second-highest peak in the world.
This year marked Harila's second attempt at setting the record. Her initial attempt in 2022 was interrupted by the coronavirus pandemic when Chinese authorities restricted foreign travel, allowing her to climb 12 peaks.
Reflecting on her achievement, Harila mentioned that Mount K2 was the most difficult one to tackle this year due to the harsh weather conditions and very deep snow.
Looking ahead, Harila revealed her plans to engage in mountain running and has already signed up for a race.
Previously, the record for the fastest climb of the 14 peaks was held by Nirmal Purja, a Nepal-born British citizen, who accomplished the feat in 189 days in 2019, surpassing the previous record of over seven years set by a South Korean climber. Purja's impressive climbs were later featured in the popular Netflix documentary, "14 Peaks: Nothing is Impossible."