Tata Group Unveils New Logo and Branding for Air India: A Transformational Journey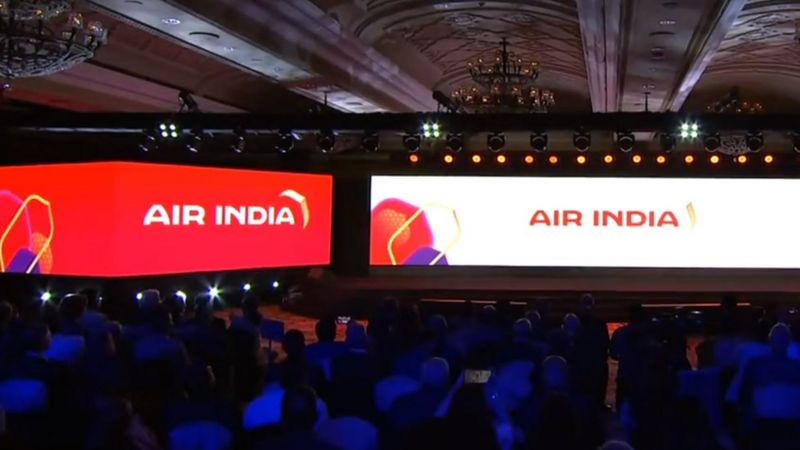 In a monumental move, India's Tata Group has unveiled a fresh identity for Air India, marking a multi-million dollar transformation of the renowned national carrier. The new logo features a captivating design adorned with golden, red, and purple colors, a departure from the old emblem depicting a red swan.
This rebranding initiative follows Tata Group's acquisition of the debt-ridden airline in October 2021, with the official handover taking place in January 2022. Since then, CEO Campbell Wilson has emphasized that while the airline's iconic mascot, the cheerful Maharaja, will remain a part of its identity, the company intends to "move beyond" it, retaining the mascot's elements that symbolize hospitality and service.
Air India has a storied history, having been founded by the Tata Group in 1932 before being taken over by the government in 1953. The Tatas' recent purchase of the carrier, amounting to nearly $2.4 billion, came as a significant investment to revitalize the airline, which had accumulated losses of around $9.5 billion.
Under Tata's stewardship, substantial efforts have been made to modernize Air India's fleet, showcasing a commitment to enhancing the airline's global presence. Notably, in February, Tata announced a groundbreaking deal with Europe's Airbus and US-based Boeing, involving the purchase of a record 470 new aircraft, demonstrating Air India's ambition to assert itself as a major global player in the aviation industry.
During the unveiling ceremony held on Thursday, Tata Sons Chairman N Chandrashekaran outlined the airline's immediate focus: a comprehensive refurbishment of the entire fleet, bringing it to a level that meets the highest standards of quality and comfort.
As Air India embarks on this transformative journey under the Tata Group's stewardship, it is poised to redefine its position in the aviation landscape, carrying with it a legacy of Indian hospitality while embracing a bold new era of excellence. The unveiling of the new logo and branding represents a crucial step forward, signifying a commitment to rejuvenate and position Air India as a formidable force on the global stage