Revving Up Representation: South Asian Heritage Month Drives Inclusivity in Motorsports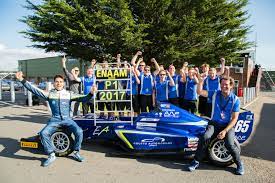 London, August 15 – As the annual South Asian Heritage Month (SAHM) unfolds from July 18 to August 17, the world of motorsports reflects on its brief but intriguing interaction with the South Asian community. While the influence of South Asian cultures and stories are celebrated during this month, the question arises: why has there been a dearth of South Asian talent in the world of motorsports?
Founded in 2020, South Asian Heritage Month stands as an annual event dedicated to commemorating and celebrating the rich tapestry of South Asian cultures and stories. This encompasses individuals from backgrounds in India, Pakistan, Bangladesh, Sri Lanka, Nepal, Bhutan, Maldives, and Afghanistan residing in the United Kingdom.
In the realm of motorsports, South Asia's relationship has been fleeting. The Formula 1 Grand Prix held at the Buddh International Circuit in India from 2011 to 2013 marked a significant moment, allowing motorsports to tap into the region's passion for speed. Notably, two Indian racing drivers, Karun Chandhok and Narain Karthikeyan, achieved the pinnacle of their sport by participating in Formula One.
Presently, Enaam Ahmed, a British-Pakistani racing driver, graces the 2023 Indy NXT series. Ahmed's achievements include clinching the prestigious BRDC Formula 3 Championship in 2017, alongside numerous victories and podium finishes in other categories.
However, the presence of South Asian talent within the motorsports domain remains limited. The question then arises: why is the representation still lacking?
The lack of grassroots opportunities, education, and exposure are contributing factors. Marium Tahir, a British Pakistani professional working for UK-based motorsports creative agency Pace Six Four, emphasized that while opportunities for fresh talent are emerging at the grassroots level, education remains crucial. She highlighted that first- and second-generation South Asians in the UK often lack exposure to the motorsports industry, making it imperative to change perspectives and educate individuals of all ages about the diverse roles within the field.
Sophia Bi, a British-born Pakistani motorsport enthusiast, plays a significant role in bridging this gap. Working as a Creative Production Coordinator for Sky Sports, she has been involved in motorsports events such as the British Grand Prix and the Abu Dhabi Grand Prix. Sophia's dedication extends to promoting young talent, aligning with organizations like Motorsport UK Marshalling community and Girls on Track to inspire future generations.
Rahul Chotai, a South Asian doctor with Aston Martin F1 team, illustrates that South Asian influence extends beyond the racetrack. He ensures the team's health and well-being during the racing season, highlighting the diverse roles in the industry.
As SAHM unfolds, the scarcity of South Asian representation in motorsports underscores the importance of initiating change through education, exposure, and fostering opportunities. The momentum has already begun, with individuals like Marium Tahir, Sophia Bi, and others actively championing this cause. With education, outreach, and changing perspectives, the motorsports industry can pave the way for more South Asian talents to thrive and contribute to this exhilarating world.