Tragedy Strikes as Monsoon Rains Trigger Floods and Landslides in India's Himalayan Region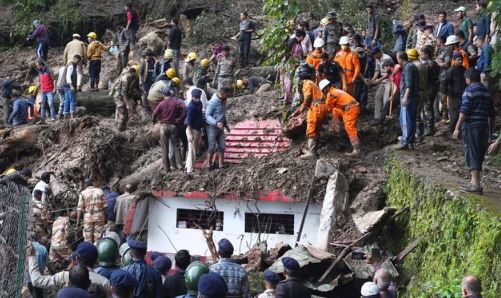 New Delhi, Aug. 15 – A devastating onslaught of heavy monsoon rains has wreaked havoc across India's Himalayan region, leading to floods and landslides that have claimed at least 22 lives and left numerous individuals stranded, according to official reports on Monday.
The calamity unfolded as a cloudburst struck the Solan district in Himachal Pradesh state on Sunday night, resulting in the tragic loss of nine lives. In a cruel twist of fate, two subsequent landslides in the state's capital, Shimla, led to the discovery of nine more bodies buried under mud and debris, as reported by authorities to the Press Trust of India news agency.
The devastating impact of the incessant downpour was felt far and wide. In addition to the fatalities, four individuals lost their lives in the Hamirpur district due to heavy rains and a consequential landslide.
Sukhvinder Singh Sukhu, the chief minister of Himachal Pradesh, has announced that rescue teams are diligently working to clear debris and extract those who remain trapped in Shimla. Cloudbursts, a common occurrence in the Himalayan region, have raised concerns among experts due to the mounting frequency of extreme weather events. These sudden bursts of intense rainfall, exceeding 10 centimeters (3.9 inches) within a 10 square kilometer (3.8 square miles) area within an hour, can trigger devastating flooding and landslides, severely affecting the lives of thousands living in the mountainous regions of India.
Police authorities have reported that homes were swept away and roads submerged in Solan, as the unrelenting rains continued. The landslides in Shimla had even claimed a revered Hindu temple, and officials have issued warnings that the death toll could rise further as rescue efforts persist.
The situation has prompted the closure of all schools and colleges within the state. Moreover, over 700 roads rendered impassable by flooding have been shut down, causing further disruptions to daily life.
India's meteorological department has cautioned that moderate to heavy rainfall is predicted to persist across various parts of the state on Monday. Over the weekend, a red alert was issued for neighboring Uttarakhand state, where monsoon rains have already claimed the lives of 60 individuals this season, as reported by PTI.
This recent catastrophe follows a grim pattern seen in July, when record-breaking monsoon showers resulted in the death of over 100 people across northern India, with Himachal Pradesh bearing the brunt of the devastation.
Landslides and floods are recurrent tragedies in India's Himalayan north during the monsoon season, spanning from June to September. Scientists have underscored the intensification of these events, attributing their increased frequency to global warming-induced glacier melt.
Last year, Uttarakhand experienced flash floods that resulted in the loss of nearly 200 lives and the destruction of countless homes. The dire situation emphasizes the urgent need for proactive measures to mitigate the risks posed by such natural disasters in the region.