Floods inundate 114 villages in India's Punjab, 2 children dead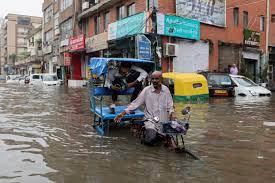 NEW DELHI — Floods have inundated 114 villages in the northern Indian state of Punjab and two children drowned in flood water, the state media reported Thursday.
India's state-run broadcaster – All India Radio (AIR) on Thursday said two children drowned in flood water in Dhirowal village of Shri Hargobindpur area of Gurdaspur district.
The flood-affected districts in the state are Hoshiarpur, Gurdaspur, Rupnagar and Kapurthala.
The broadcaster said floodwaters have affected crops on thousands of acres of land and people are forced to leave their homes.
Authorities in these flood-hit districts have deployed several teams of the National Disaster Response Force, army and border guards to carry out rescue operations.
Officials said vast swathes of Hoshiarpur, Gurdaspur and Rupnagar have been inundated following the release of excess water from the Bhakra and the Pong dams in Himachal Pradesh.
These districts are bordering Himachal Pradesh which has been hit by heavy rains over the past few days. The incessant downpour in the hilly state triggered cloudbursts, flash floods, and landslides that so far claimed 71 lives.
"Yesterday, 45 villages were inundated and today water entered 69 others," a local government official of Punjab said. "There is fear the situation would turn grim here if more rains hit Himachal Pradesh."
Officials said 5,000 people living in low-lying areas were moved to safer places. People have also been urged to move to safer locations.
The administration in the flood-hit villages has ordered the closure of government and private schools, besides social welfare centers meant for children, until further orders. (Xinhua)