Pakistani rupee drops to record low of 300 against USD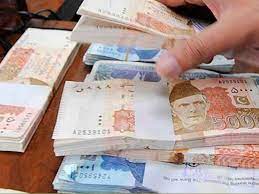 ISLAMABAD — Pakistani rupee dropped to an all-time low against the U.S. dollar, crossing the barrier of 300 rupees against the greenback on Thursday, the State Bank of Pakistan said.
The closing exchange rate of the Pakistani currency in the interbank market was recorded at 300.22, a decrease of 0.58 rupee or 0.19 percent from Wednesday, the central bank said in a statement.
Local trade analysts say that the ongoing depreciation observed in the rupee's value is because of the International Monetary Fund's requirement that restricts the government from interfering in the market to influence the exchange rate.
Earlier on Wednesday, Deputy Governor of the SBP Inayat Hussain briefed the Senate Standing Committee on Finance and Revenue that the devaluation of the rupee is primarily being driven by an increasing demand for dollars among the public and the removal of import restrictions.
Senator Saleem Mandviwalla, the chairman of the committee, suggested that the SBP should implement preventive actions to stabilize the dollar's value and discourage unnecessary purchasing of dollars by Pakistanis. (Xinhua)