China's New Map Sparks Controversy as Neighbors Raise Strong Objections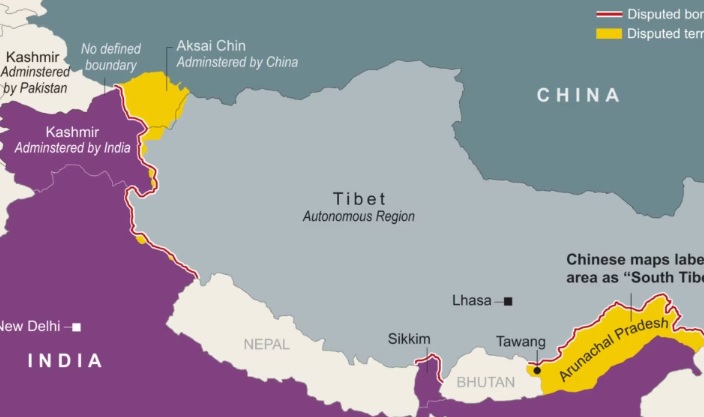 Kathmandu — Beijing's release of a revised national map that incorporates disputed territories has ignited a wave of objections from neighboring countries. The move comes as China faces criticism for asserting territorial claims beyond its borders.
China's Ministry of Natural Resources unveiled its 2023 national map on Monday, a routine update the country has carried out periodically since 2006. However, this edition of the map has garnered significant attention due to the inclusion of contested areas that have raised concerns among neighboring countries.
Nepal, which has been grappling with its own territorial disputes, became the latest nation to voice its disapproval. This follows similar objections by Malaysia and India, both of whom have strongly criticized China's claim over their territories. Nepal's government, still smarting from the disregard shown by India and China towards its own map, expressed doubts about the validity of China's territorial claims.
The new political map issued by China appears to disconnect from Nepal's revised political boundaries, instead featuring Nepal's outdated territorial depiction. This situation underscores a lack of acknowledgment by China of Nepal's revised political cartography. The release of Nepal's new political map in May 2020, encompassing territories like Kalapani, Lipulekh, and Limpiyadhura, was a significant move. This came after the State Affairs and Good Governance Committee of Nepal's Parliament instructed the government to unveil a fresh map that incorporated the region of Limpiyadhura in 2076 BS.
The controversy stems from China's decision to incorporate parts of India's Arunachal Pradesh and the disputed Aksai Chin region into its own territory on the map. India promptly lodged a formal protest, with its foreign secretary labeling the claims as baseless. The Philippines also took issue with the map's depiction of contested areas in the South China Sea, reiterating that the map had no legal basis under international law.
Malaysia, meanwhile, rejected China's unilateral claims and reiterated its stance of rejecting any foreign entity's claims to its maritime features. These collective objections have created a diplomatic rift in the region, with tensions escalating due to China's assertion of territorial sovereignty through cartography.
Chinese Foreign Ministry spokesperson Wang Wenbin downplayed the controversy during a regular press briefing, stating that the map revisions were a routine exercise of sovereignty in accordance with the law. Wang urged relevant parties to remain calm and avoid over-interpreting the issue.
This latest dispute underscores the ongoing tensions between China and its neighbors over territorial claims. The incorporation of contested regions into the national map adds fuel to the already smoldering fire of regional disputes, raising questions about the potential consequences for stability in the region. As neighboring countries continue to object and assert their own territorial claims, finding a peaceful resolution to these disputes remains a significant challenge.