Nepal and India urged to promote bilateral tech cooperation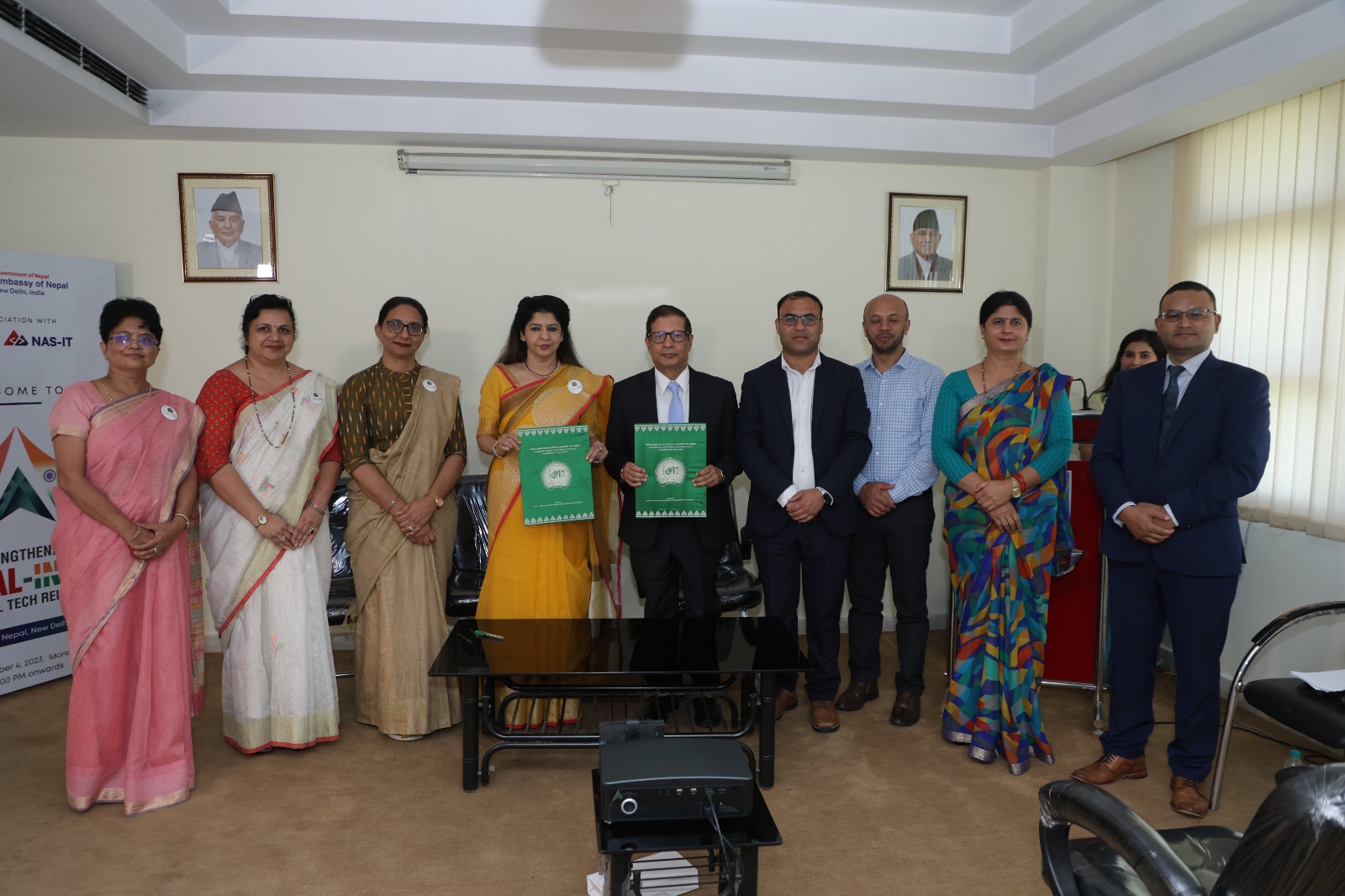 Delhi – Government officials, tech entrepreneurs and members of academia have urged Nepal and India to bolster bilateral cooperation in the information technology (IT) sector.
Addressing the event titled "Strengthening Nepal-India Bilateral Tech Relations" on Monday, Ambassador of Nepal to India, Dr Shankar P Sharma, said that there were a lot of advantage for Indian business communities to invest in Nepal. "Language is no barrier, the weather in Nepal is much better and the cost of transportation between the two countries is negligible. The government of Nepal offers tax concessions to foreign investors, and the threshold for minimum foreign direct investment has also been reduced," he said.
"Nepal has a young, English-speaking skilled workforce. More than 5,000 IT graduates enter the job market every year. The rising number of technically skilled youth workforce has been the driver of Nepal's IT service export industry's growth in recent years. Many IT graduates who have studied abroad are also returning to Nepal. Both the countries should seize this opportunity," said Ambassador Sharma. "The Embassy of Nepal in Delhi stands ready to facilitate networking between companies and academia from both the countries," he added.
Founder and Global CTO of Genese Solution, a UK-based digital transformation company, Anjani Phuyal, said that Nepal is getting transformed digitally, and the IT sector is a success story. "The latest curriculum covering cloud-based learnings and certifications is being taught in several Nepali universities and colleges and producing world-class IT graduates. Local Nepali talents are serving global clients remotely in the comfort of their homes," said Phuyal adding," The challenge now is how to retain these talents within the country." He expressed his hopes for Nepal's growing digital economy. "With technological advancements and remote work becoming more mainstream, Nepal, surrounded by breathtaking mountains and natural sceneries, is a dream destination for digital nomads from India and other countries."
Amit Mehta, Head of Training and Certification at Amazon Web Services (AWS), Asia, emphasised the critical role of digital skills in the fast-evolving, technological world. "Digital skills are a key contributor to the economy. A survey has shown that people with advanced digital skills earn 65% more than those who do not possess such skills," he stated.
Mehta urged regulators to proactively consider measures for enhancing graduate employability, such as establishing national standards, defining occupation-based roles, and outlining a clear path for learners. He stressed the need for a comprehensive approach to bridge the gap between education and the prevailing labour market demands.
Taking part in a panel discussion on the theme "Forging Pathways for Global Tech Leaders: Elevating Nepal's Digital Transformation," Lokesh Mehra, Senior Biz Lead, Learner Engagement, Amazon Web Services (AWS) South Asia, said research has shown that investing in education helps to increase GDP of a country. He called upon the government of Nepal to come forward to support the IT sector as a whole, including IT education.
Business Development Manager – Public Sector, AWS India, Vikrant Satsangi, called upon the Nepal government to accelerate the implementation of the Digital Nepal Framework. "Nepal can address many of its digital challenges and IT infrastructural difficulties by collaborating with India." He suggested that Nepal could nurture its technology ecosystem and thrive as an emerging IT hub by enhancing access to mentors, expanding the availability of educational resources, boosting data security measures, and crafting supportive regulatory frameworks, among others.
MoU signed
On the sideline of the event, a tripartite Memorandum of Understanding (MoU) was signed among Tribhuvan University, Institute of Engineering (IoE); Indira Gandhi Technical University for Women (IGDTUW), India; and Genese Academy.
Vice Chancellor of IGDTUW Dr. Amita Dev from IGTUW said nearly 5,000 girls were currently studying at her university, and graduates from her university were earning handsome salaries and leading in their professions. "National borders are merely perceptions. Through these partnerships, we have the opportunity to enhance bilateral and collaborative research efforts, facilitate faculty and student exchange programs, establish dual-degree certifications, and even promote partnerships for internships and job placements," said Dr. Dev.
Basanta Joshi, Assistant Professor at the IOE, said the IOE was happy to collaborate with IGDTUW and Genese Academy to enhance the skills of Nepali students. "IOE has signed MOUs with several institutions across various countries. International collaboration in tech education has far-reaching implications that extend beyond national boundaries", he added.
Delivering the vote of thanks, the Minister (Economic) at the Nepali embassy in Delhi, Mrs. Nita Pokharel Aryal, said that the government of Nepal accords a high priority for the development of the science and technology sector. She called upon the IT entrepreneurs and businessmen in India to seize the moment and extend their business in Nepal.
The event was organised by the Embassy of Nepal in New Delhi in partnership with Genese Solution and Nepal Association of Software and IT Services Companies (NAS-IT).