WHO Regional election sparks controversy on Merit vs Nepotism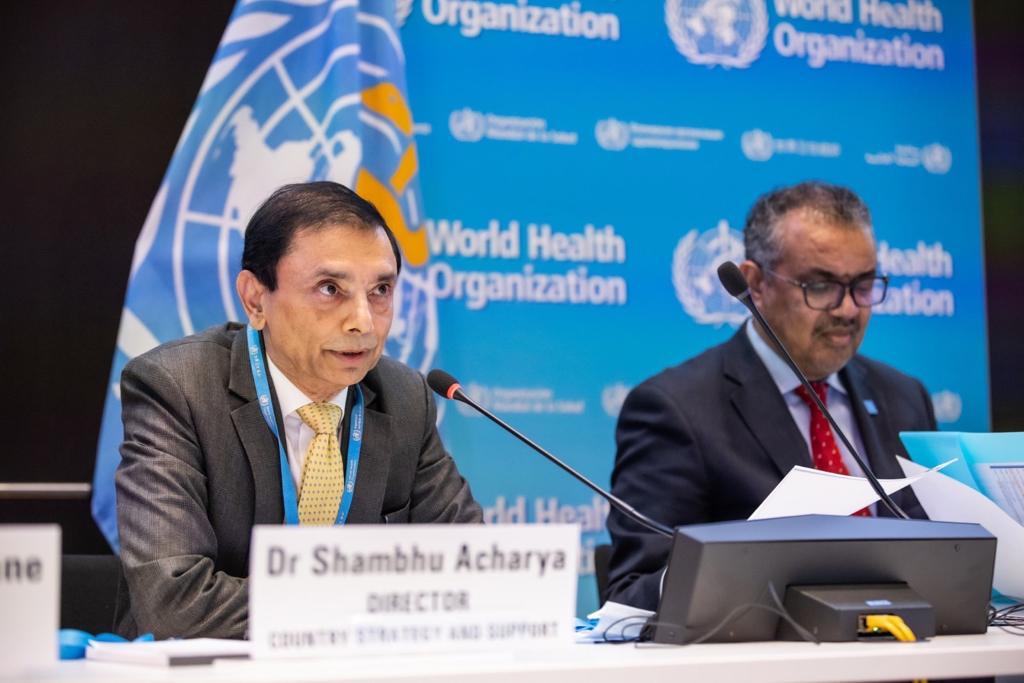 By Our Staff Reporter
London — With less than four weeks left to elect a new Regional Director for the WHO South East Asia Regional Office (SEARO), the choice before the voting member countries could not be clearer.
So far, there are only two candidates in the fray. Dr Shambhu Acharya, from Nepal, is competing againstthe Bangaldeshi candidate, Saima Wazed Hossain.
A public health veteran, Dr Acharya holds a PhD in public health and has over three decades of experience of working with the WHO in various capacities around the world. He was instrumental in developing health systems at the local, national, and regional levels in many low and middle income countries in the fields of maternity and child health, family planning, population, infectious and non-communicable diseases. He also led World Bank-funded health and population programs in Bangladesh and helped establish the WHO Asia-Pacific Health Economics Network.
In his manifesto, Acharya has accorded top priority to health promotion, disease and injury prevention, and planetary health, by addressing their root causesin the WHO South East Asia Region.
"The Region's investments in health have been increasing, exemplified by India's efforts to bolster health programs. Thailand's universal healthcare is also commendable. To leverage economic growth, my priority is twofold: first, promoting health investment as an asset, not just an expense, focusing on human capital development," said Dr Acharya in a recent interview. "Secondly, fostering international partnerships with organizations like the Global Fund, the development banks on climate-focused initiatives. Collaborative investments can bring substantial value to healthcare, helping overcome resource limitations."

The Bangladeshi candidate, Saima Wazed, doesn't have any public health degree. Since 2019, she has been an adviser to WHO's Director General on mental health and autism. She is a Bangaldeshi-Canadian citizen, and has worked as a school psychologist in Florida, United States.
Her manifesto fails to address major public health issues facing the region, observers say.
Interestingly, Saima is the daughter of Bangladesh Prime Minister Sheikh Hasina. Quite predictably,Prime Minister Hasina seems to be leaving no stone unturned to get her daughter elected to the coveted post – that will oversee the public health priorities of nearly two billion people.
Early this year, in a letter to the Lancet – the world's top medical journal – a group of public health experts called for greater transparency in WHO elections, including public debates rather than closed sessions to choose a new Regional Director. Financial Times, the London-based newspaper, quoted an unnamed senior health policy worker in Bangladesh saying that Ms Wazed's nomination showed the politicisation of country's health sector.
"She came from a political family and her mother is prime minister. Every single work that she does is highlighted by the government."
Prime Minister Hasina took her daughter to regional meetings of BRICS, ASEAN and recently the G-20 summit in Delhi where Bangladesh was one of the invitees. Ms Saima tweeted her photo with US President Biden, herself and her mother.
'Crossing the Fine Line'
Dr Mukesh Kapila, who has worked in over 100 countries, as a physician and public health specialist, recently wrote that being introduced by her mother at recent high-level summits such as BRICS, ASEAN, G20 and the UN General Assembly to craft deals in exchange for votes may be seen as crossing the fine line between a government's legitimate lobbying for its candidate and craven nepotism. "Intense political pressure from Bangladesh appears to have dissuaded good competitors from within Bangladesh and other countries. Nepal is now under intensified pressure to withdraw its nominee and allow Wazed to be anointed unopposed," he added.
As the campaign to garner support from member states enters the last phase, articles supporting Bangladeshi candidate are also appearing in the media. One Prof Quazi M Islam has argued that it is a sovereign right of any member state to nominate a candidate of their choice.
"There could be several other talent pools in Nepal from which the government could have nominated," he said, insinuating that the candidate from Nepal also may not be the most deserving one.
Nepali officials, however, insist that Nepal government had short-listed Dr Acharya for nomination from a larger list of candidates for the post. Three successive governments from different political backgrounds upheld his candidacy. Given his vast experience in health policy finance, programme management and wide range of public health experience, Dr Acharya was an obvious choice. "We believe that our candidate is far superior to the Bangladeshi candidate in terms of experience, vision and competency," they said.
Interestingly, Prof Islam claimed that "WHO does not need hardcore technocrats but require politicians who can listen to advisors, make decisions based on evidence and recruit people fairly to achieve the vision and mission." Some Bangladeshi media reports are, meanwhile, claiming that Prime Minister Sheikh Hasina is also projecting her daughter as her future political successor.
Nepotism and favoritism is not new in South Asia, where rulers usually tend to promote people usually on the basis of their lineage or loyalty. But to lead an important post like Regional Director, WHO SEARO, member states are expected to choose a candidate who knows public health issues affecting the region by heart and is all set to hit the ground running. The choice is but obvious – Nepotism vs Merit.
The member states of WHO SEARO would do well by promoting merit in the WHO rather than rewarding nepotism.