UN Chief Drops Climate Truth Bomb at Nepal's Annapurna Base Camp: "Developed Nations to Blame for Climate Crisis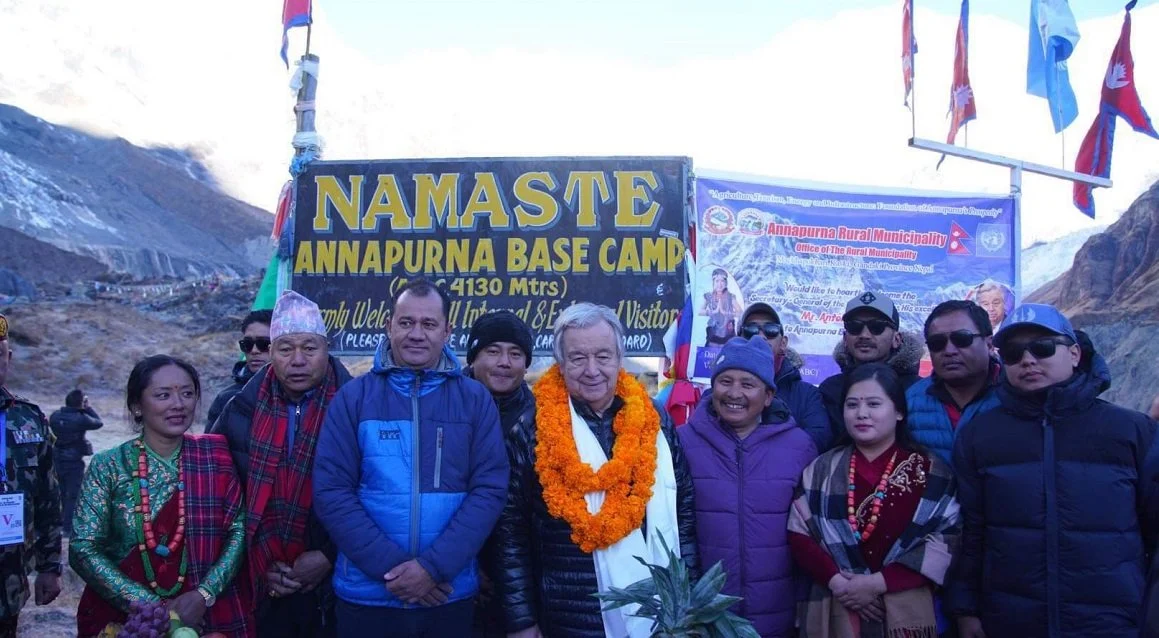 Kathmandu — United Nations Secretary General Antonio Guterres, during a visit to the Annapurna Base Camp (ABC) in Nepal, emphasized that while Nepal bears the brunt of climate change impacts, it is the developed countries that are primarily responsible for causing climate change. Guterres, who arrived at ABC, situated at an elevation of 4,130 meters above sea level, via a Nepalese army helicopter, underscored the urgent need for global action.
Speaking to the local residents, Guterres acknowledged Nepal's minimal role in contributing to climate change, stating, "The main factor of climate change is developed and industrialized countries; Nepal has no hand in this. Climate change is happening because of rich countries, but Nepal has to suffer the consequences."
Chairman of Annapurna Rural Municipality in Kaski, Bishnu Bahadur KC, informed Guterres about the growing challenges linked to climate change. Meanwhile, Him Bahadur Gurung, Ward President of Ward No. 11 of ABC Parne, shared his childhood experiences of herding sheep in the Himalayas, shedding light on the drastic environmental changes he had witnessed over time.
Addressing the locals, Guterres noted that the rapidly melting snow in the mountains has triggered problems such as floods and landslides, severely affecting communities. He underscored the purpose of his visit to ABC, stating that he came to convey the message about the dire consequences of climate change.
Upon returning from the Annapurna base camp, Guterres spoke to journalists in Pokhara, where he expressed his commitment to raising awareness on the critical issue of climate change. He pledged to appeal to the global community to take action to protect the mountains and glaciers.
Guterres also mentioned the Climate Adaptation Fund, emphasizing its significance in aiding communities impacted by the climate crisis. He called for the fund to be effectively utilized in mitigating the consequences of climate change, recognizing the pressing need for international collaboration to address this shared global challenge.