10 steps to consider before entering in entrepreneurship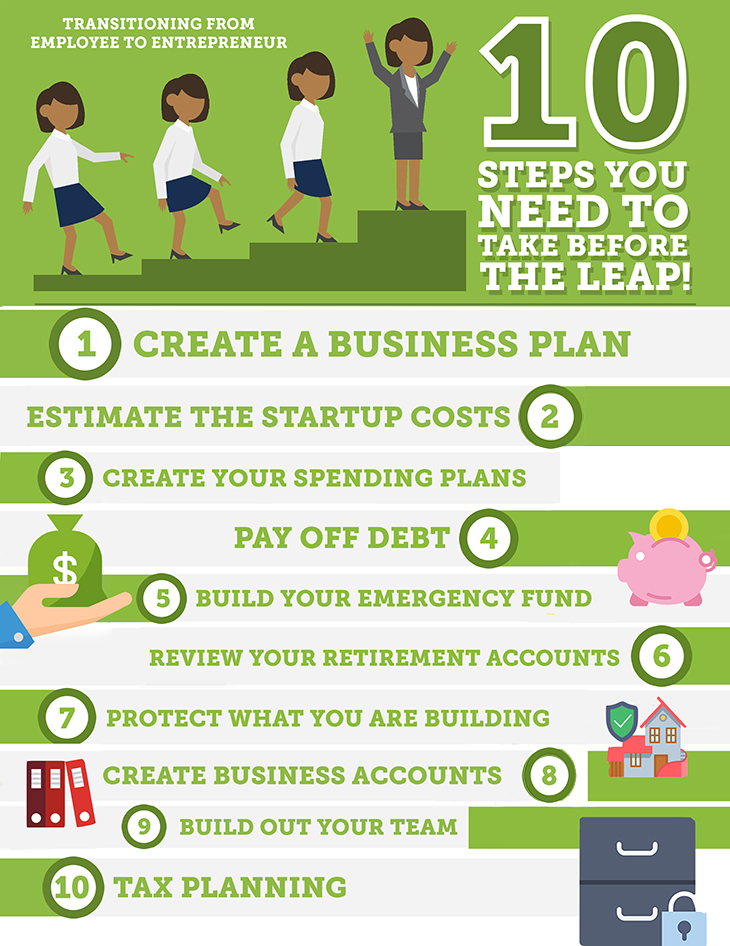 As an entrepreneur, you wear many hats — visionary, technician and manager. But you must not let the hustle and bustle of your business steer you away from having a solid financial foundation. Showing discipline with your personal finances will strengthen your success with your business finances. A few basic initial steps can be taken when making the transition from employee to entrepreneur.
In addition to creating a business plan, you need to begin by figuring out the expected expenses for your particular field. There are also some common expenses for which you can prepare, such as fees to incorporate, costs of bookkeeping software and various forms of insurance you may be leaving behind with your former job.
Next, create two spending plans: What your expenses and cash flow look like today, versus what they may look like when you start your company and are living off reduced income and savings.
Eliminate or pay down as much consumer debt, such as credit cards, as possible before taking the leap. This will help you figure out the at least three to six months' worth of fixed living expenses you need to have in place before fully transitioning to a full-time entrepreneur. Also, do not mix personal and business expenses. Start your company off on the right track and open separate business savings and checking accounts.
Before leaving your current employer to start your entrepreneurship adventure, look at your retirement account and see if you are fully vested. Any money you have contributed is yours; your company match may or may not come with you, depending on your length of service at your job.
One of the most important things you can do is think about building out a team of personal and professional support, such as close mentors or friends, a certified financial planner and a tax professional. This will help lift you out of the dark days, and set you on the right track to success.
— By Rianka Dorsainvil, founder and president of Your Greatest Contribution