Pakistan's trade with South Asia to grow up to $67 bln a year: Worold Bank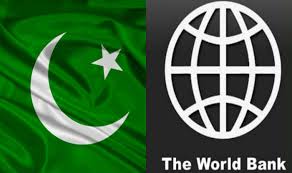 ISLAMABAD: Considering the current level of Pakistan's trade with South Asia of only $23 billion per year as very low, World Bank lead economist and author of a recently launched report, Sanjay Kathuria Wednesday said said that the actual potential of Pakistan"s trade with the region was around $67 billion which could be tapped by increasing trade ties with the regional countries.
"Pakistan's regional trade with South Asia accounts for only 8 percent of its global trade and the country can increase its export to South Asia by eight fold," he said while briefing a group of journalists here at the WB office today.
The recently launched "Glass Half Full: The Promise of Regional Trade in South Asia" report documents what needs to be done to realize the full trading potential in South Asia.
Sanjay said Pakistan's actual trade with South Asia was $5.1 billion whereas the potential trade was over $39 billion per year while with the rest of the world, the total trade was $67.9 billion.
In order to achieve the real potential of regional trade, Sanjay suggested to remove the unnecessary non-tariff barriers within the region, increase people to people contacts, improve road and air connectivity, and liberalize trade withing South Asia.
On the occasion, World Bank Country Director for Pakistan, Illango Patchamuthu said "Pakistan is sitting on huge trade potential that remains largely untapped".
"A favorable trading regime that reduces the high costs and removes barriers can boost investment opportunities that is critically required for accelerating growth in the country.
"Meanwhile Director Macroeconomic Trade and Investment, WB, Caroline Freund said Pakistan"s economy showed a significant improvement during previous year when the total GDP growth rate was recorded at 11-years high of 5.8 percent.
However, she said that was mainly consumption driven growth, but Pakistan really needs export promotion policies to ensure sustainable economic growth.
With respect to the currency exchange rate, Caroline termed the undervalued currency as a part of anti export policies saying that if a currency of any country is undervalued, the imports would get cheaper and the exports would get costlier and would ultimately discourage the exporters.
To a question, she said after appreciation of any country"s currency by 10 percent would mean the contraction of exports by 5.7 percent.
She said the value of exchange rate should be determined by the real market trend by balancing the other implications of devaluation including inflation, increasing debts, and increased cost of business.
Meanwhile a press statement issued by the World Bank said while Pakistan and India collectively represent 88 percent of South Asia"s Gross Domestic Product (GDP), trade between the two countries is only valued at a little over $2 billion which could be as high as $37 billion.
Regional trade can create many more jobs and make the country prosperous if trade barriers with South Asia especially between India and Pakistan are removed.
Pakistan's trade with South Asia accounts for only 8 percent of its global trade, despite the region being the world"s fastest growing the news writes.