Elephant festival of Nepal condemn by right groups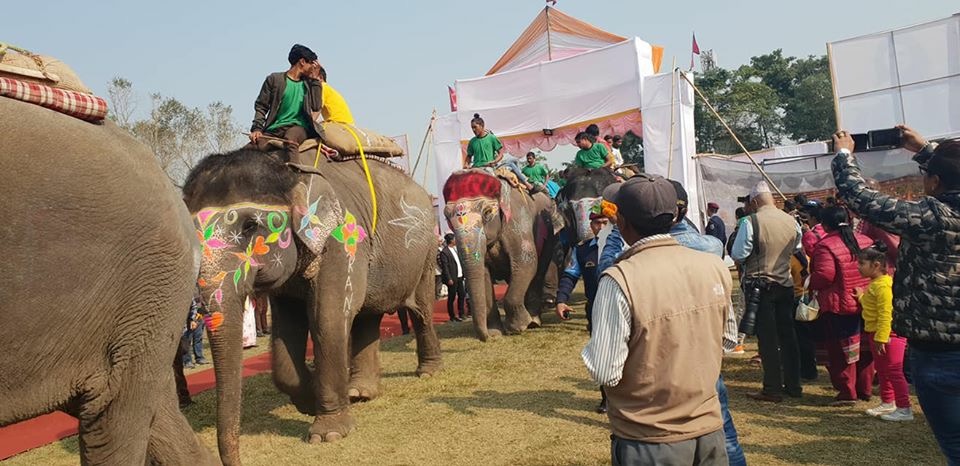 CHITWAN :   15th edition of the Elephant Festival has been kicked off in Chitwan on Wednesday with the participation of around 100 elephants. Chitwan is considered as on of the popular tourist destination of Nepal.
The event is organised  by the Regional Hotel Association of Sauraha based in Chitwan National Park.
Nepali President Vidaya Bhandari  inaugurated and highlighted the importance of the elephants in tourism, mentioning that elephants have religious and cultural value in Nepali society.
Similarly , Minister for Culture, Tourism and Civil Aviation Rabindra Adhikari also said that the festival is instrumental to boost tourism of the Himalayan nation.
The annual fiesta aims to bring humans closer with elephants, encourage wildlife protection and conservation and promote tourism, particularly in Chitwan.
The festival has been condemn by a elephant  right group called Elephant watch.
The group has written an open letter to President Bhandari staying the cruelty and commercial use of elephant .
Copy of  letter From Elephant watch :
Dear Honorable President,
Elephant Watch Nepal (EWN) was surprised to read that you promote elephant polo as a means to generate tourism income.
Elephant polo and other 'games' involving elephants is an outdated practice in most parts of the world. Science has shown that elephants are not built to play games. Also, in order to force elephants to carry out such a sport, they are trained in a cruel manner and disciplined with the help of an ankush, a tool that has been outlawed in many countries.
Across the world it has been recognised that elephants are highly intelligent, social animals, whose welfare is severely compromised when kept on chains or being made to perform. This is why domesticating elephants is discouraged and humane alternatives for the existing captive ones are found.
Recently, GoN has led the way by building chain free corralsfor government-owned elephants. Tiger Tops recently became the first tourism outfit to unchain its elephants and to stop elephant polo and safaris. Instead they promote walking with elephants, elephant behaviour observation, etc.
"We too are concerned about tourism revenues but since many Western travel companies have removed elephant safaris and games from their itineraries traditional elephant activities will not yield much income in the long run. Humane alternatives like walking with elephants, elephant watching, kuchi making, etc. have much more potential as sustainable business models."
We hope you will stop promoting elephant tourism and instead speak out for more humane alternatives to sustainable tourism.
Sincerely,
The EWN Team