Pakistan declares 'Panj Tirath' 1000 yrs old Hindu temple as heritage site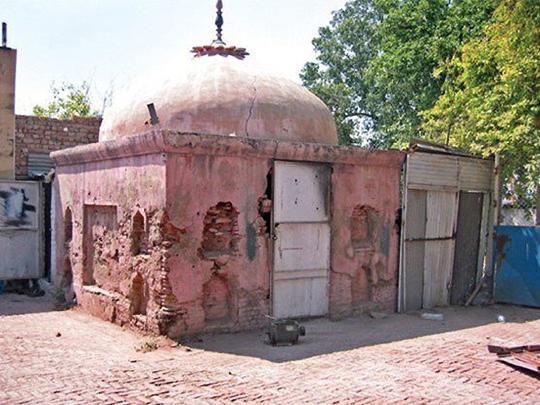 Karachi : The Khyber Pakhtunkhwa provincial government in Pakistan declared the ancient Hindu religious site of 'Panj Tirath' in Peshawar as a national heritage site on Wednesday. Social media users praised the move as one towards tolerance and unity.
'Panj Tirath' is named for the five pools of water present at the site, as stated in a report by The News International, the largest English newspaper in Pakistan. It also houses a Hindu temple and a lawn with date palm trees.
The announcement was made under the Khyber Pakhtunkhwa Antiquities Act of 2016 by the Directorate of Archaeology and Museums, according to Pakistani media outlet Tribal News Network. Additionally, the Khyber Pakhtunkhwa government has announced a fine of 2 million Pakistani rupees and five years imprisonment for anyone found guilty of damaging the historic site.
The site holds religious significance to local Hindus who believe that King Pandu from the Mahabharata, a Hindu mythological epic, bathed in the pools and worshipped under the date palm trees for two days, as stated in a report by The Hindu, an Indian daily newspaper.
The temple has faced deterioration according to Pakistani news reports, and parts of the Panj Tirath site were cleared in the 1970s to make area for the Khyber Pakhtunkhwa Chamber of Commerce and Industry and the Chacha Yunus Park.
Social media users were appreciative of the liberal move towards religious diversity by Pakistan.
Twitter user @DrAyshaRaza posted: "The way all sites of historical cultural and religious significance ought to be treated by civilised nations. #CelebrateDiversity #PanjTirath"
Indian tweep @IndroMukherjee wrote: "Happy to learn that Pakistan has declared Panj Tirath as a national heritage site. Sending peace and love to my brothers on the other side. @ImranKhanPTI @sherryontopp Let's prosper and thrive together!"
@JemHassan1 tweeted: "A wonderful news for the people. Look forward to a future with hope and peace."
Tweep @GomathiRaghava4 added: "Words are inadequate to describe the goodwill gesture. It re-establishes common subcontinent culture."
Panj Tirath is an over 1,000 years old archaeological site and is situated at Hashtnagri. The archaeological site got the Panj Tirath name from the five pools of water there. It has two temples and a spacious lawn with Peepal and other trees.
The site is considered one of the most sacred places for the Hindus which has been turned into a family park.
Panj Tirath has been mentioned in Hindus religious book "Hindu Mythology." A writer, Lord Hinger, mentioned that five Pando brothers started living in this place which later came to be known as Panj Tirath.
It said that the Pando brothers then left the place but their followers made five pools there in their memory and established a temple called "Shawal Thakardawara."
They believed that the water cured all kind of diseases. Later it was renamed as Panj Tirath.