Winners of "The Voice of Nepal" to perform in UK from 16th of February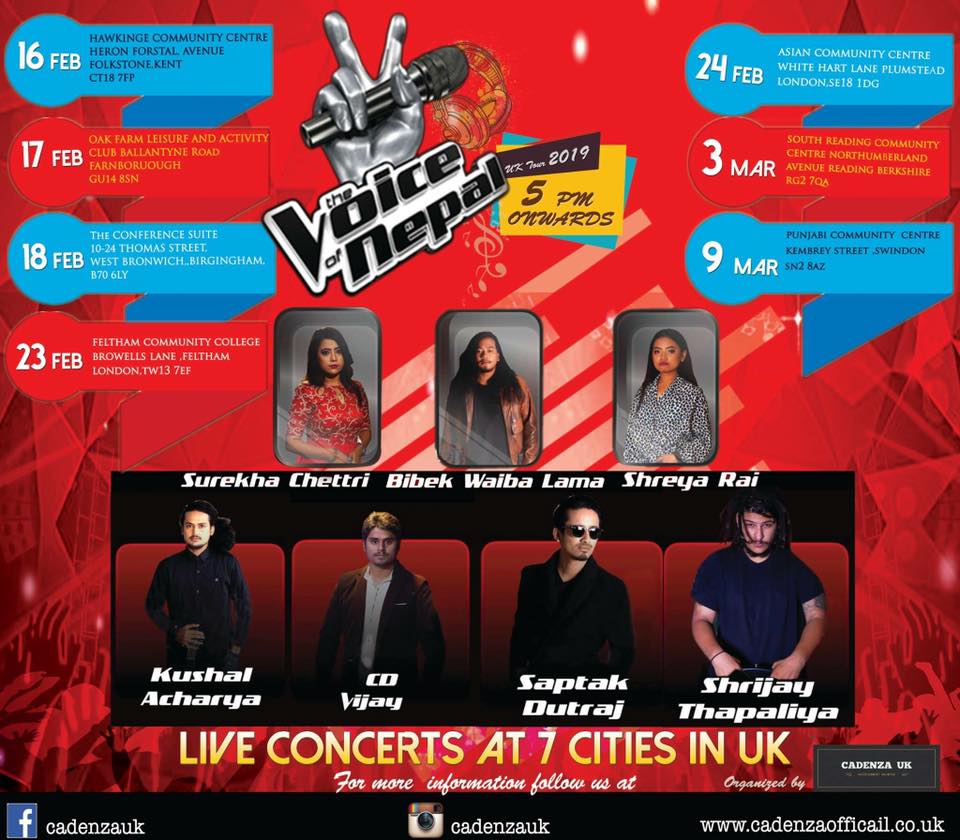 London : Nepali version of the  international mega reality show "The Voice" has successfully completed its first episode in Nepal few weeks ago.  The top seven  contestants of this very first episode are scheduled for the world tour from February. The beginning of the world tour is  due to start from UK.  The  team will perform in many cities of  UK among the fans of Nepali music. The winner of the title Mr. CD Vijaya Adhikari, Finalists Srijay Thapaliya, Kushal Acharya , Saptak Dutraj along with Bibek Lama, Surekha Chhetri and Shreya Rai will be entertaining the Nepalese music lovers in UK.
Candeza UK has organised a press meet to brief the event on Fdiday.  It is said that the program will be held in 7 major cities of the UK.   The price of the ticket to buy online will be £20 and it will cost £25 to buy at the door. Tickets will be available online or at the certain shop counter around the venue area.
The grand finale of the show "The Voice of Nepal" was wrapped up at Doha, Qutar.   The demanding show has been introduced to Nepal by Kantipur TV.  The value of the show has been lifted up due to the image of five popular judges, the veteran modern singer Dip Shrestha, rock star Abhaya Subba, popular modern singer Pramod Kharel  and the popular melodious singer Mr. Sanup Poudel.  Similarly, popular host Sushil Nepal and Osean Sitaula were the icon to synchronise the show.
Time table of the program 
[A] 16th February 2019 – FOLKESTONE
Hawkinge Community Centre, Heron Forstal Avenue, Folkestone, Kent CT18 7FP
[B] 17th February 2019– FARNBOROUGH
Oak Farm Leisure and Activity Club, Ballantyne Rd, Farnborough GU14 8SN
[C] 18th February 2019– BIRMINGHAM
The Conference Suite, 10 – 24 Thomas Street, West Bromwich, Birmingham. B70 6LY
[D] 23rd February 2019– FELTHAM
Feltham Community College, Browells Lane, Feltham, London TW13 7EF
[E] 24th February 2019 – PLUMSTEAD
Asian Community Centre, White Hart Lane, Plumstead, London SE18 1DG
[F] 3rd March 2019– READING
South Reading Community Centre, 252 Northumberland Avenue, Reading, Berkshire RG2 7QA
[G] 9th March 2019 – SWINDON
Punjabi Community Centre, Kembrey Street, Swindon SN2 8AZ
Marketing and pr director of Candeza UK, Mr Dhiraj Rai has mentioned to visit the  http://www.cadenzaofficial.co.uk/ website for the further details. Ticket can be book through (this link )