Changing Economic Status Of A Woman Dubo Garland promoting cultural entrepreneurship in Pokhara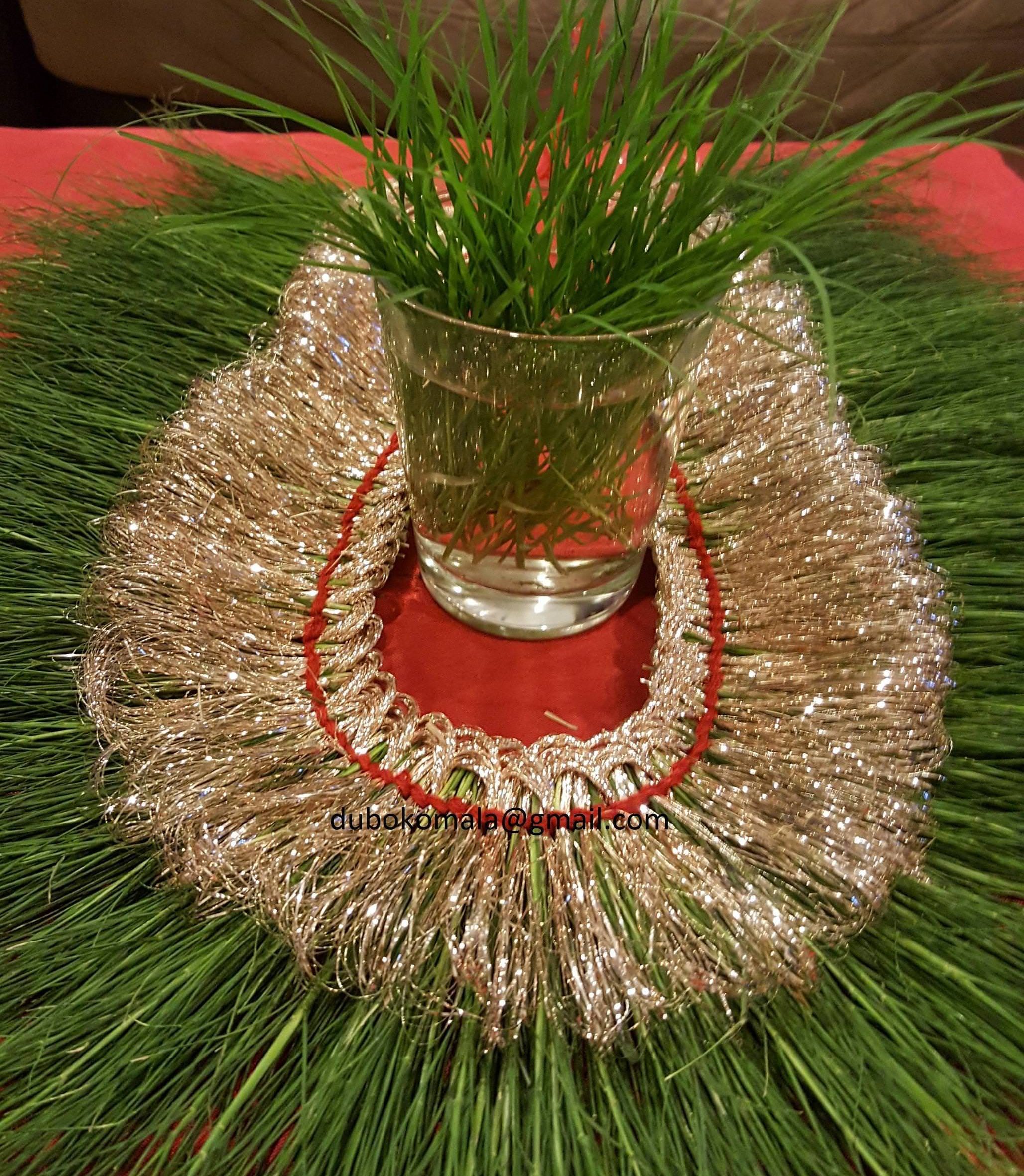 Jamuna Barsha Sharma, Chipledhunga, Feb 18 (RSS): Meera is always found looking for the green 'dubo' grass to make a garland when other people are searching for colourful flowers in the gardens.
The green dubo grass has for certain brought windfall in the life of this 45-year-old woman. There is a story behind Meera's penchant for dubo grass.
Meera started making garlands of the dubo grass. The demand for garlands made of dubo grass is high especially during the wedding season as it is worn by the bride and the bridegroom during wedding ceremonies. It is also worn by people during special rituals and cultural celebrations.
Meera, who lives at Baidam of Pokhara, started this profession of making the dubo garlands after completing a five-day training conducted by the Pokhara Chamber of Commerce and Industry 10 years back.
Making the garlands out of the green dubo grass benefited her not only in terms of monetary income but it also improved her eye sight. Her sight was not that good before, but it gradually improved after she started making garlands of the dubo grass.
"I had very poor eyesight. It gradually started improving after I started arranging and sorting out the dubo grass for making garlands out of it as they say your sight improves when you look at green dubo grass over a length of time," an exuberant Meera said.
She said her eyesight had not improved even though she started medication for the same for two years. According to her, her eyesight gradually improved overtime after she started making the garlands of the dubo grass. "The dubo grass has brought a wave of happiness in my life," Meera said emphatically.
She also shared that the training which she took brought a big change in her life. As she said, she turned what she had learned in the training into practice and a way of life.
Meera now earns between Rs 500 to Rs 2,500 per day selling the dubo grass garlands that she makes, managing time after she is done with all the other household chores. This has financially empowered her as it is the basis of her income.
Her children have been helping her work. Mira goes surrounding areas of Pokhara and collects dubo grass and keeps in the refrigerator, which remain fresh till 15 days. Mira's friends and relatives used to come to visit her carrying dubo grass seeing her skill. This support of Mira's relatives and friends has added more energy to her.
Now-a-days, it is very difficult to find out dubo grass in Pokhara city area and has been compulsion to go out of Pokhara city to collect it.
Mira said, "I will make garland until I get dubo grass." A woman entrepreneur Hira Bhattarai said that Mira is a source of inspiration. Mira said, "I will never have been engaged in this profession if Hira sister had not encouraged me after training. Hira sister urged me frequently to utilize my skill. I want to give all these credit to Hira sister."
Saying financial dependency make women weak, she said the income made by utilizing free time give us satisfaction.