Reading Nepali Society marked its 18th anniversary and 10th AGM by electing a new executive body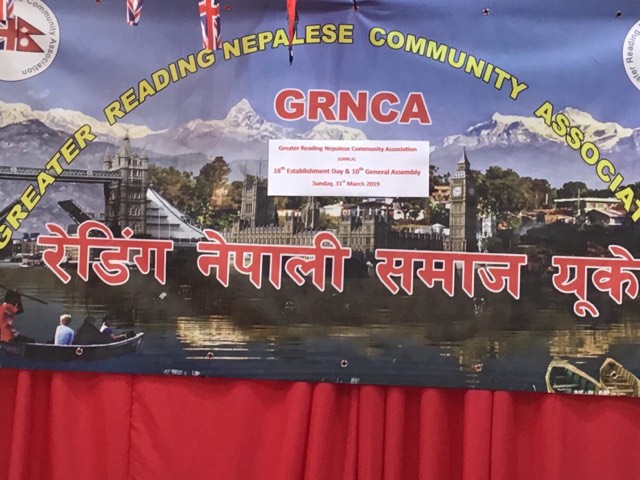 London : Reading Nepali Society has commenced its AGM and the 18th Anniversary on Sunday, 31 March at the Warehouse Reading.  The chief guest of the program was NRNA president Mr. Yog Kumar Phagami.
The formal election committee to conduct the AGM  was formed under the leadership of Dr. Gangaram Dahal along with Arjun Basnet, Mahesh Gurung, Dhak Gurung and Chandra Pun.
The program was chaired by the president of the GRNCA Mr Krishna Neupane.
The program was inaugurated by lighting the 18 candles by the Chair of the ceremony, Chief guest and all the distinguished representatives of the various organizations.
The welcome speech was delivered by VP Bhimsen Khadka along with the speech of felicitation from the ex-presidents Man Bahadur Gurung, Kirtibilas Panta and Bishwo Adarsa Pandit.
The chief guest of the program Mr Yog Phagami also delivered the speech of felicitation and informed the community regarding the issues of the dual citizenship provision of Non-Residential Nepalese.
The second phase of the program was commenced with the annual assessment report presented by the General Secretary, Mr. Omkar Adhikari.  Similarly, the annual financial report was presented by treasurer Tek Gurung.  Both of the financial and annual reports were passed by the majority of the AGM and the old executive body was dissolved by the election committee and the process of new election was carried forward in the third phase.
The new executive committee was elected by the consensus of the entire AGM without having an election.
The election committee, at last, announced the name of the executive committee.
Newly elected executive committee members : 
President: Tek Gurung
Vice President: Bhimsen Khadka, Yadav Shrestha, Sushila Gurung, Dhan Rana Magar , Prabal Ghising, Yograj Limbu
General Secretary: Omkar Adhikari
Secretary: Bikram Shrestha
Treasurer: Saroj Thapa
Vice Treasurer: Jagannath Sapkota
Members:
Iman Singh Rai
Tul Bahadur Gurung
Bandana KC
Harimaya Gurung
Laxman Shrestha
Roma Gurung
Himmat Sitaula
Saroj Jung Thapa
Rudra Gurung
Asmin Shrestha
Mohan Katwal
Udaya Ghising
Mani Subedi
After the election process certificates were handed to the newly elected members of the executive committee by the election committee.