UKaid announces Challenge Fund that targets creating employment for 90,000 Nepalese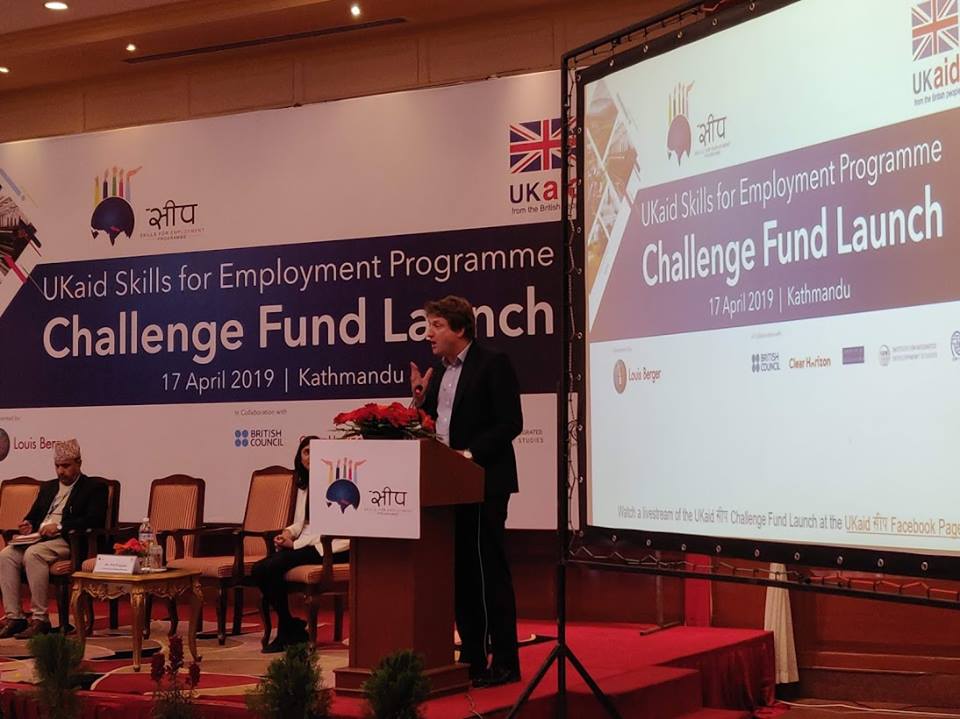 Kathmandu : The government of UK has announced its plan to provide entrepreneurial skill training to the Nepalese that could enable to job access for 90 thousands of Nepalese.  The UK's Skills for Employment Programme announced in Nepal on Wednesday has launched its Challenge Fund, inviting the private sector to present their ideas on skill building with the goal of creating jobs opportunities for women and disadvantage groups and encouraging migrant workers to utilise their experience in the country.
The $11.92 million (£9.14 million) Challenge Fund targets creating employment outcomes for 90,000 people.
UKaid SEP focuses on ICT, tourism, commercial agriculture, construction (hydropower), light manufacturing sectors through market-led interventions that enable job creation, increasein incomes and migration optimization. The programme is harnessing the benefits of migration for Nepal's workforce and economic development by demonstrating several cost-effective models to increase migrants' skills; lower financing and other costs of traveling abroad; and increase savings and investment of remittances.
The 90,000 Nepalis are expected to benefit from an increase in income of at least 20 per cent attributed to the project. Of the total cohort, 40 per cent will be women and 40 per cent from the disadvantaged groups including persons with disabilities.
The programme draws on national and international resources and expertise toprovide co-investment and technical advisory support to the Nepali private and public sector. Using a Challenge Fund mechanism, UKaid Sep will partner with the private and public sector to generate and scale-up innovative training models in the above-mentioned sectors to address key gaps and market failures by leveraging private sector resources and catalyzing increased investments and system-wide collaborations to augment individual as well as collective skilling models. The programme also provides a unique opportunity for international providers to work with Nepali partners by proposing sustainable co-investment models that ensure quality training and placement for Nepalis in the domestic and foreign labour markets.
As UKaid's implementing partner, Louis Berger is ensuring close coordination with relevant government entities at the federal; provincial and local level, the private sector, donor agencies and other stakeholders involved in skills development and migration optimization. Louis Berger's partners on SEP include British Council, the International Organization for Migration, Frost&Sullivan, Institute for Integrated Development Studies, and Clear Horizon.
The programme will co-invest in innovation skills training and migrant projects by partnering with companies selected from the challenge fund.