The birth ceremony of Nepal born Buddha "Buddha Jayanti" being celebrated in Trafalgar Square promoting visit Nepal 2020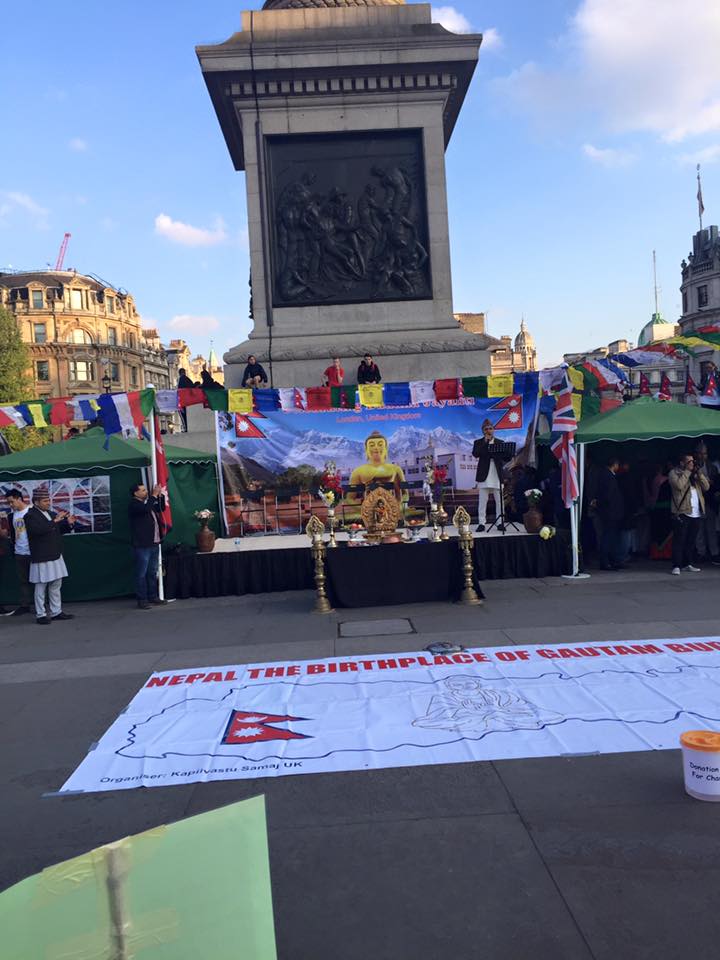 London: Buddha Jayanti, the birth ceremony of the preacher of peace and harmony in the world is being celebrated in London, Trafalgar Square on Sunday, 12th of May.
All the necessary preparations for the ceremony of  2563rd Buddha Jayanti (the birth ceremony of Lord Buddha)  has been completed, the president of organizing committee Mr. Deepak Shrestha said to SAT.
Various organizations have already registered their name for the support and active participation in the program.  Many international Buddhists monks and followers from Srilanka, Thailand, Myanmar, Japan , China, etc. have been invited on the occasion, Arjun Katwal, the general secretary of the Buddha Foundation, UK said.
This jointly organized program by  Buddha Foundation UK and Kapilbastu Samaj, UK with  the cooperation of Nepalese Embassy London, Nepal Tourism Board along with NRNA UK is considered as one of the biggest events in Nepalese diaspora with the greater impact to promote Lumbini, Nepal; the birthplace of Buddha and to convey Buddha's message of peace and harmony in the world.
"The motto of the program is to promote the message of the peace to the world as well as to promote Tourism of Nepal along with  Visit Nepal 2020 campaign. Correspondingly, the second aim of the program is to convey the clear message to the world that the Buddha was born in Nepal", Mr. Deepak Shrestha, President of the Buddha Foundation said.
President of Buddha Foundation, UK, Mr. Shrestha urged all the Nepalese community, well-wishers, the followers and fans of the Lord Buddha to participate in the program to convey the message of peace in the world.
"On this special day, Many Buddhist monks will perform the prayer for the world peace and recite the message of peace and harmony taught by Lord Buddha", Jiban Sen,  one of the organizers of the event added.
The Buddha, or "enlightened one," was born in a large clan called the Shakyas in Lumbini, (today, modern Nepal) in the 6th century B.C. Although born a prince, he realized that conditioned experiences could not provide lasting happiness or protection from suffering. After a long spiritual search he went into deep meditation, where he realized the nature of mind. He achieved the state of unconditional and lasting happiness: the state of enlightenment, of buddhahood. This state of mind is free from disturbing emotions and expresses itself through fearlessness, joy and active compassion. Throughout his life, Buddha encouraged his followers to question his teachings and confirm them through their own experience. This non-dogmatic attitude still characterizes Buddhism today.