Donald Trump kicks off controversy in his state visit to the UK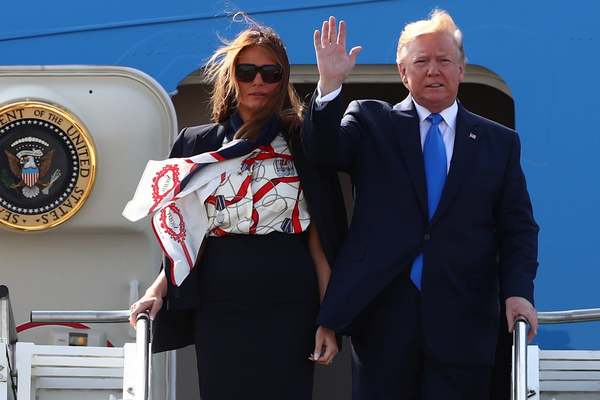 London– US President Donald Trump continues to court controversy in his state visit to the UK.
President Trump and Melania Trump were welcomed by British Foreign Secretary, Jeremy Hunt, at the Stansted airport on Monday morning.
But, President Trump had kicked off fresh round of controversy in his tweeter spat with Mayor of London, Sadiq Khan.
"(Khan), who is a stone cold loser should focus on the crime in London, not on me," President Trump tweeted minutes before Air Force One landed at the airport.
He is believed to be referring to increasing incidences of  knife crime in London.
At least 100 persons—mostly young men—have died in knife attacks in London over the last five months.
Earlier, writing in The Guardian newspaper, Mayor Khan said it is un-British to roll out the red carpet for the US President.
when asked about protests planned during President Trump's visit, Mayor Khan said, "I support the right for people to protest, especially when the liberty of others is being swept away. Those coming to protest during President Trump's visit must be lawful, peaceful and safe."
Even before his visit, President Trump had made his views known regarding internal politics of the UK. In an interview with the British newspaper, The Sun, Mr Trump said former Foreign Secretary Boris Johnson would be the best successor to premier May.
Prime Minister May has said she will resign from the post of president of the ruling Conservative Party on Friday, 7th of June,   
Protests are planned across the UK during the visit, including in London, Manchester, Belfast, and Birmingham.
Mr Trump will meet members of the Royal Family, and is expected to discuss climate change and Chinese technology firm Huawei during talks with outgoing Prime Minister Theresa May, the BBC reported.
Although Mr Trump has spoken of his admiration for Mrs May, there is expected to be differences of opinion during their talks, which begin on Tuesday, the report said.