Former Pakistani President Asif Ali Zardari arrested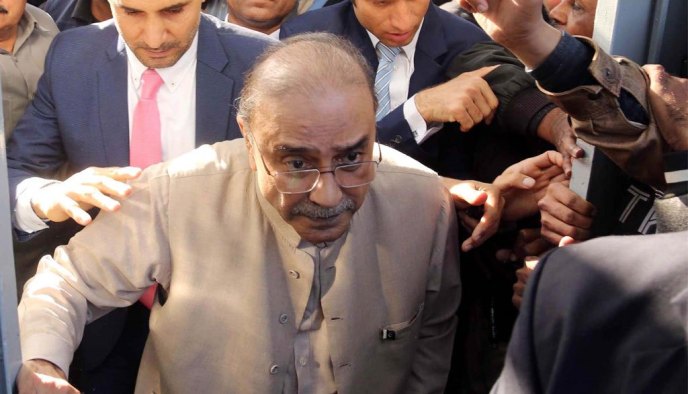 ISLAMABAD: A team of National Accountability Bureau (NAB) officials reached Zardari House in Islamabad on Monday to arrest former president and Pakistan People's Party (PPP) co-chairman Asif Ali Zardari,  Pakistani national media The Business reported.
The NAB team's arrival at Zardari House came hours after a Islamabad High Court bench comprising Justice Amir Farooq and Justice Moshin Akhtar Kayani rejected a plea by Zardari and his sister Faryal Talpur seeking an extension in their interim bail in the fake bank accounts case.
Issuing its orders, the High Court permitted National Accountability Bureau (NAB) authorities to carry out arrest of Asif Zardari and Faryal Talpur.
Zardari and Talpur now have the option of appealing the order in the Supreme Court.
The case relates to transactions of hundreds of millions of rupees to the two leaders' private companies allegedly through fake bank accounts.
Earlier, a team of NAB officials reached Parliament House to inform the National Assembly Speaker of Asif Ali Zardari's arrest warrants.
"Zardari has presented himself before NAB on every occasion and has not used delaying tactics. NAB should have appreciated this and there was no need for an arrest," leader of the opposition in the National Assembly Shehbaz Sharif said in Parliament.
Shehbaz Sharif requested that the NA speaker issue production orders for Asif Ali Zardari.