China wants to develop the South Asian countries through BRI : Expert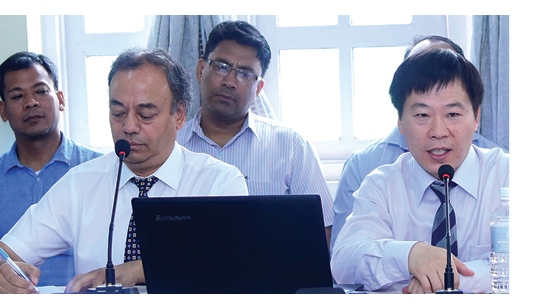 Kathmandu : Professor Wang Yuzhu, a Chinese foreign policy expert, said on Saturday that China wanted to develop the South Asian countries through the cooperation under the Belt and Road Initiatives (BRI), national daily of Nepal The Rising Nepal reported.
The Director of Department of Regional Cooperation Studies, National Institute of International Strategy, Chinese Academy of Social Science, Wang, said that the South Asian countries were an integral part of the Initiative introduced by the Chinese President, Xi Jinping.
The South Asian countries are the neighbours of China and the important partners for cooperation of BRI, he said, adding that China expected a proper cooperation from the South Asian Countries to implement the Initiative for the overall economic and social development of these countries.
"Infrastructure connectivity, industrial investment, resource development, economic and cooperation, cultural exchange, ecological protection and maritime cooperation are the project priority of BRI. These elements are equally importance for achieving the sustainable growth of any countries," he said at an interaction on "One Belt One Road: China's Expectations of South Asia,' organised by China Culture Centre in Nepal and Arniko Society.
The objective of the BRI is to focus on developing infrastructure connectivity as it is more essential for attracting investment from both domestic and international community, he said, adding that development of many countries was backed due to lack of investment for enhancing connectivity.
Stating that the China has started the concept of BRI for the last five years aiming to take the cooperation of China to the foreign countries and boost the economies of member countries, he said that a ray of hope for cooperation through the BRI was increasing.
He said that the BRI would be of special importance for the global cooperation and world economy through bringing more countries in the global production and price network at a time when America started a trade war with its conservative mind-set.
"It is natural for the Western countries to blame the BRI of China as dangerous when China is occupying around 12 per cent of the international trade," he said.
He said that cooperation between China and the South Asian countries had not ended even though the some of the projects had been criticised by the Western countries due to geopolitical sensitivity.