Pompeo Optimistic About Peace in Brief Visit to Afghanistan En Route to Asia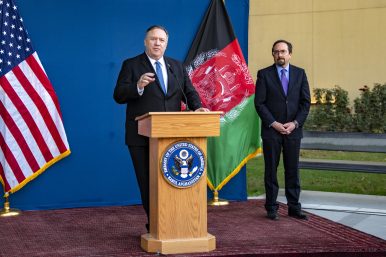 U.S. Secretary of State Mike Pompeo made an unannounced stop in Afghanistan on his way to India as part of the South Asia leg of his regional tour. Pompeo met on June 25 with President Ashraf Ghani in Kabul, where the U.S. official said he hoped for an Afghan peace deal by Sept. 1, ahead of the country's presidential elections later that month. Pompeo then traveled to New Delhi, where he met with Indian Prime Minister Narendra Modi and Foreign Minister Subrahmanyam Jaishankar on June 26 to discuss a range of bilateral issues. These included trade and U.S. H1-B visas, Russian arms sales to India, proposed Indian rules that would require U.S. tech and e-commerce firms doing business in India to store their data locally and Indian security concerns in Afghanistan, Worldview Stratfor reported.
Why It Matters
Pompeo's visit represents a U.S. effort to pursue its twin core interests in South Asia of ending the war in Afghanistan and advancing the U.S. partnership with India. Washington and the Taliban have held six rounds of talks since Oct. 18, 2018, to finalize a peace accord. An agreement has proved elusive, however, with both sides sticking to their respective demands. Washington wants a package deal in which the withdrawal of 14,000 U.S. troops in Afghanistan comes in return for Taliban commitments to accept a cease-fire, prevent transnational terrorist groups from using Afghan territory to mount attacks and dialogue with Kabul. The Taliban meanwhile are demanding a U.S. troop withdrawal before they make any concessions.
Meanwhile, Pompeo's visit to India comes amid lingering tensions over trade. During a joint press conference on June 26, Jaishankar suggested India would proceed with the purchase of the Russian S-400 air defense missile system, a move that could trigger U.S. sanctions under the Countering America's Adversaries Through Sanctions Act. Other issues that will figure in Pompeo's discussions with India include U.S. concerns over Indian tariffs and data localization requirements, which could complicate the reach of U.S. commerce into India's emerging market of 1.3 billion consumers. Pompeo's visit will also aim to soothe tensions ahead of Modi's expected sideline meeting with U.S. President Donald Trump at the June 28-29 G-20 summit in Osaka, Japan. Afghanistan will likely figure in the talks given Indian security concerns in the warring country.
Background
In October, the Trump administration began the first of multiple rounds of talks with the Taliban to finalize a pact ending the war in Afghanistan that the United States has fought since 2001. India, which has given Afghanistan more than $2 billion in aid since the U.S. conflict began, fears that a postconflict Afghanistan in which the Taliban play a governance role will embolden Indian archrival Pakistan, the primary external sponsor of the.