Virendra Sharma MP joins Bolt Mobility, co-founded by Olympic Champion Usain Bolt, on calling on UK Government to introduce e-scooter legislation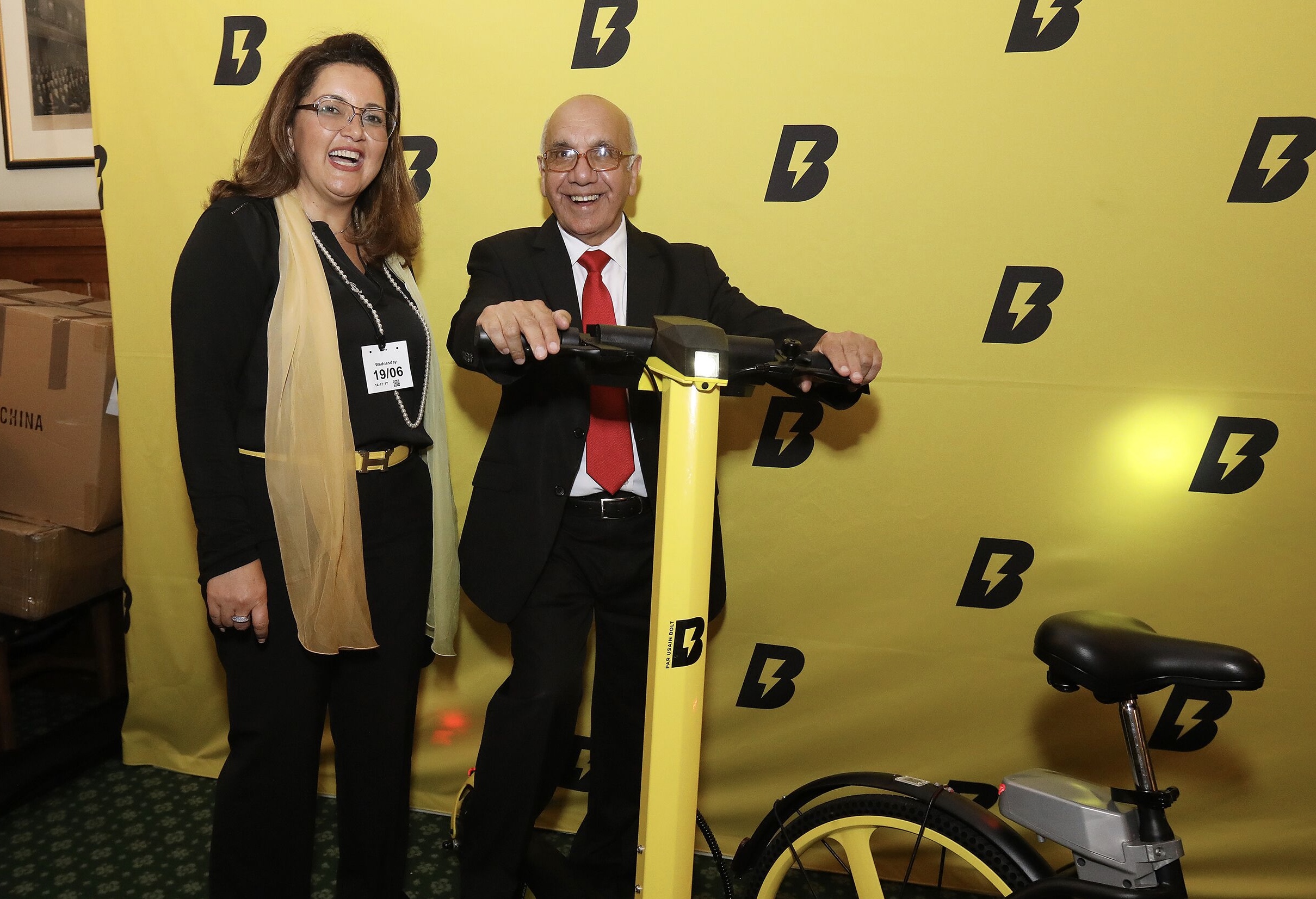 London — Virendra Sharma MP has joined micromobility company Bolt Mobility, co-founded by three-time Olympic Champion Usain Bolt, in calling on the Government to update legislation to allow new forms of micromobility technology, including e-scooters, on UK roads.
Attending a product showcase event hosted by US-based micromobility company Bolt Mobility – of which gold medallist sprinter Usain Bolt is a co-founder – in Parliament last week, Virendra Sharma MP had the opportunity to review and test-ride some of the most technologically advanced e-scooter products currently on the market.
Speaking after the event, Virendra Sharma MP said
"The use of e-scooters and other micromobility products is currently illegal on UK roads, with certain transport legislation dating back to the 1830s. Updates to the UK's transport laws are long overdue, with the development of new, innovative, sustainable technology such as e-scooters heralding a new era in 'last-mile' travel. It was great to attend Bolt Mobility's product showcase and see the next generation in micromobility transport technology. I have written to the Transport Secretary asking that he looks at updating transport laws so that the UK isn't left behind other countries in harnessing this technology." 
Speaking at the Parliamentary event, Dr. Sarah Haynes, Co-Founder, Co-CEO, & Chairwoman of Bolt Mobility, said,
"We're excited to be in the UK, where we see an opportunity for micromobility solutions to deliver real change for both users and local communities by reducing reliance on personal vehicles. City Centres, suburban areas and public transport black spots could benefit from fast, equitable, efficient and affordable 'last mile' solutions."
Speaking during Bolt Mobility's launch in London last week, Usain Bolt commented:
"We are a witnessing a European technology race that the UK has an opportunity to lead. As an athlete who runs in cities across the world, I've seen first-hand the impact that polluted air and overcrowded transport systems have on people's lives. The UK's roads are some of the most congested in Europe – so we see huge potential for the UK to benefit from the micromobility technology that is taking other cities by storm."
About Bolt mobility :
Bolt Mobility, the global micromobility company co-founded by Usain Bolt,announced this week its plan to set up a UK office.
Announcing its expansion to the UK, Executives from the business spent the week in London meeting with officials and showcasing their portfolio of products, which include innovatively designed e-scooters, e-bikes and the Bolt Nano, a prototype EV.
Bolt Mobility is expanding rapidly into the US and Europe, and launched its products on the street of Paris last month. It plans to expand into 20 European cities by 2020.
The company is planning to introduce its e-bike fleet to the UK and is currently engaged with local authorities on developing local schemes. E-scooters are currently illegal on the UK public highway so Bolt Mobility's e-scooters are not yet available to consumers. The company is working collaboratively with officials and local authorities to help the UK develop responsible e-mobility legislation to alleviate traffic and parking congestion and reduce emissions with safe, sustainable, and equitable transportation alternatives
Bolt Mobility's products are carefully engineered for maximum safety and sustainability. Its e-scooter models feature:

Swappable batteries which extend the lifecycle of Bolt Mobility's scooters to 2 years, compared to the current industry standard of 2-3 months
Innovative design promoting greater balance and control (lower centre of gravity, specially designed forward-facing footrests, storage for shopping bags, backpacks, coffee cups)
Geofencing, allowing the speed and operation of the fleet to be controlled remotely
A 24/7 customer support service to ensure e-scooters are used and parked in a way that is considerate to the communities it operates in
Bolt Mobility is currently operational in Los Angeles, Chicago, Paris, Miami, Fort Lauderdale, Alexandria, Arlington, Richmond, Dallas, Atlanta and Portland – and plans to expand into more than 40 markets through 2019. Bolt Mobility's mission is to work with cities on a local level to solve traffic and parking congestion and reduce their carbon footprint with safe, sustainable, and equitable transport options. Its leadership team has deep experience developing sustainable transportation solutions and emerging technologies. A commitment to design ensures rider safety, convenience, and affordability.